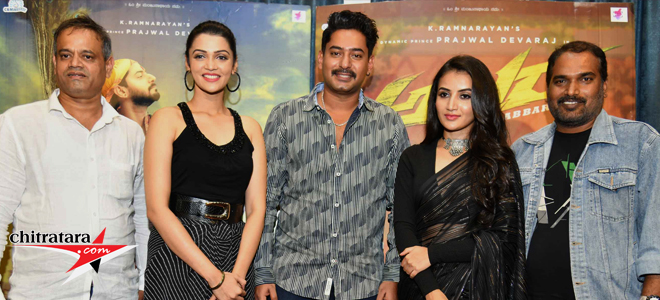 Noted lyricist K Ramanarayan has done a different kind of film and is hoping for the best with lovely songs and a fine trailer of 'Abbara'.
For the media the songs were screened and the dynamic Prince Prajwal Devaraj starring 'Abbara' set for release on August 12 disclosed director Ramnarana. Before the start of the film he had some other title but hearing the subject producer Basavaraj Manchaiah suggested 'Abbara'. After the title obtained from another producer everything became huge for this film, says Ramnarayan. He thanked the producer for his interest and Prajwal Devarja for his involvement in shaping up the film well.
Producer Basavaraja Manchaiah, happy at the moment of his 'Abbara' , announced the Karnataka tour with the film team for 10 days before release. He thanked Prajwal for taking permission from his shooting at this time for extending good support.
Prajwal Devaraj in his 29th film says so far the journey with this film is very good and the title also suits well. There is 'Abbara' in dialogues between him and Ravishanker characters in this film. He has three shades and five looks. Two scenes he had to change three looks with three heroines Lekha, Nimika and Rajashri.
Nimika Rathnakar says this is a family package and she has got a good dance song in this film for the first time in her career.
Lekha Chandra is a doctor cum patient in this film and that is interesting like the film 'Abbara' she says.
Ravi Basrur has scored music and JK Ganesh is cinematographer of this film 'Abbara' hitting on August 12 all over Karnataka.