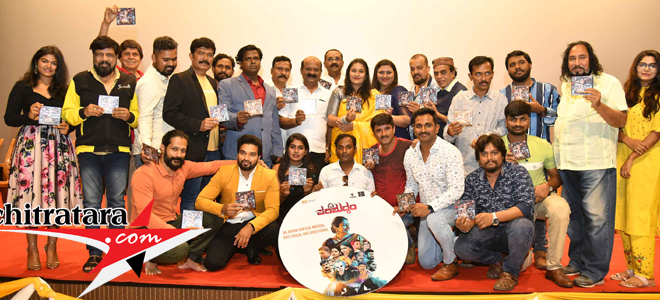 One of the brilliant personalities today in Kannada cinema Aron Karthik Venkatesh a multi talented personality directorial venture 'Parishuddam' audio got released at Kalavidhara Bhavana with a good attendance in the auditorium.
KFCC President Ba Ma Harish graced the audio release. Aron Karthik Venkatesh wrote the story, screenplay, scored music and directed this film.
In 'Parishuddam' he is addressing the purity of family life. The Pati Patni aur Vo theory is the content of this film. The level of roles that Minugu Thare Kalpana performs in the similar role has come to Sparsha Rekha in this film. MD Kaushik is in guest role, In Bengaluru, Mangaluru, Tumakuru, Bangkok and other locations shoot was held. There is an English song in the film and this has been sent to Grammy awards. In two Swaras using the letter `Ka`a song is written, MD Pallavi delivered this song very well stated Aron Karthik Venkatesh addressing the media.
Sparsha Rekha was baffled when Aron Karthik Venkatesh narrated the script in his superfast style. She asked him to narrate it slowly. Taking courage I have acted in this film. Every frame of the film is good. In the days of getting recognition we have to travel to other languages and come here, this film is a satisfying one, says Sparsha Rekha.
Neethu appears in a song number in this film, Rohan Kidiyar producer of the film acted along with Sparsha Rekha in the film, Kumar Rathod is co producer of the film.
Bhargav, Archana, Victory Vasu, Kuri Ranga, Mysuru Ramanand, Rajacharan, Dubai Rafiq attended the audio launch and explained the character they have played in 'Parishuddam'.