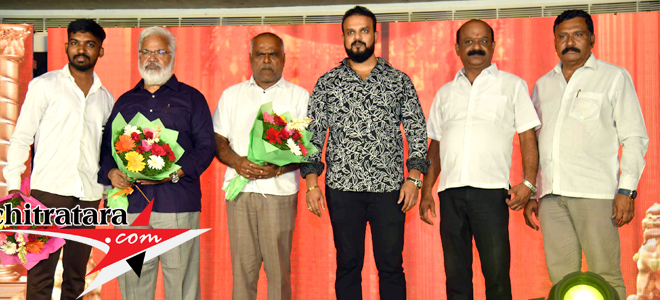 The film making is easy but marketing of it was very difficult, here is a guy Bharat Vishnukanth who came up with three films in a row. Two of his films are at the closing stage and another one at the pre production stage.
Bharat Films logo was launched by noted producer Umapathy Srinivas Gowda and he said we should not talk. Only our films should do the talking. Director brings the script, later the film is invested by the producer, he gives work for so many but at the end he is alone. In cinema there is nothing small and big. A producer is the first hero of any film and cinema is like 'Banyan Tree' explained Umapathi.
MN Kumar, Dr Sunder Raj, TP Siddaraju and others were present to bless the trio production and logo launch of Bharat Vishnukanth.
Dhruvan from the family of Dr Rajakumar is 'Bhagwan Sri Krishna Paramathma' is the first film of Bharat Films. Bharat Vishnukanth is producer.
In Bharat Films young director Puneeth directed Preetham Shetty starring film. It is based on true incidents and shoot commences in August this year. It is a completely raw subject.
Kushal is saying the action cut for Bharat Films third venture 'Daitya' is the title.
Yet another film in Bharat Films Chickmagaluru Pataka Parvathi fame Nabha Natesh brother Nahush Chakravarthy is making debut. Ganesh Parashuram is directing this film.