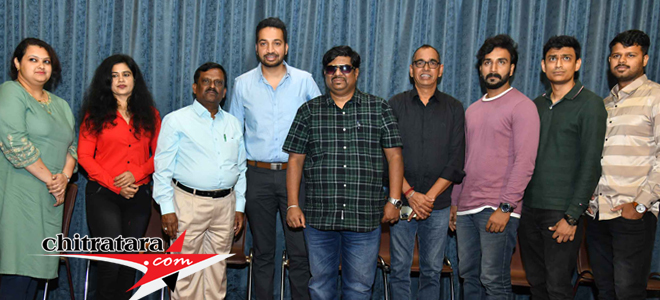 Cinema is a strong visual entertainment platform. For this if a visually challenged person directs the film what happens? In this case a film happened titled 'Nishachara'. For the first time in the Indian cinema, perhaps in the world cinema a visually impaired handling direction – credit for it comes to Kannada filmdom.
The 36 years Bhasker, facing vision issues since the last 15 years – he has a rare nerve problem in his retina of two eyes, has directed a Kannada film. In fact he has seen the outer world for two decades. He has shot for the film in the middle of a sea on a cruise is top news concerning this film.
For 26 days 'Nishachara' shot in Udupi, Karkala and on Cruise with the great support of Manjunath, Bharat, Ranjan and Raghavendra. For me the backbone is Ramaiah, husband of producer Latha, says Bhasker. He has touched on three prominent issues – love, respect and lie children utter to parents in this film. The developments are between the two couples in the screenplay. Five cameras were pressed into action for this film. It is a one hour fifty minutes film and the censor had already given U/A for this film.
With a visually impaired situation in life taking up direction Bhasker gives the story of the epic Mahabharatha – Dronacharya story of Bheema and Arjuna involved in it.
Bhasker is perfect to score in all respects and people talking to him find it difficult to find out he is visually challenged. He is in the art field and worked for a few films in script, screenplay and in some cases on deciding the climax of the film. He has visualization ability and uses the 'Job Access with Speech' tool to support. He had earlier worked in a software company. For Suvarna television channel travelling the pilgrim centers in northern India made episodes. The huge light in the night sometimes disturbs an already ailing vision for him. It is both 'Shapa and Vara' for me, he says.
Smt Latha Ramaiah, Nethravathi Gangadhar and Brunda are producers of this film. Mohan has composed four songs for this film.
Aksay is the lead hero fulfilling his dream, Abhimanyu is the second hero. The Tutiya….song is sung by Chinmayi very melodiously.
Janardhan one of the producers of the film stated that it is a challenge well delivered by Bhasker and team.