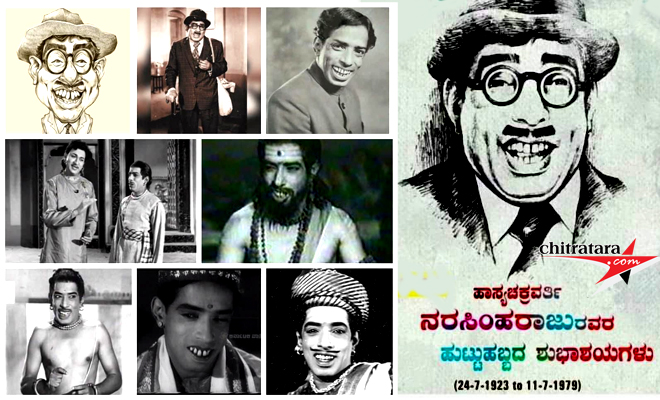 The most unforgettable comedy actor and great human being Hasyarathnakara Tiptur Ramaraju Narasimharaju 99th birthday is on July 24, 2022. He was born on July 24, 1923 and departed on 11th July 1979 (like how Dr Rajakumar birth and death comes in April, Narasimharaju his pet friend birth and death also falls in one month – that is July and the gap of difference is just one day – April 24 born Dr Raj died on 12th of April).
On the 99th birth anniversary of stalwart comedy actor of over 250 films from 1954 to 1979 Narasimharaju is remembered by a veteran cinematographer B S Basavaraju who also hails from Tiptur birthplace of Narasimharaju.
RS 100 PAYMENT – The magnanimity of stalwart Narasimharaju was so high in his peak days. Giving an example of the film `Urvashi` started in 1969, Basavaraj says Narasimharaju took just Rs.100 and nothing else for his five days of shooting for the film. `Nivella Nanna Kanmunde Belada Nammurina Hudugaru`taking remuneration is not the right thing. Let your film make good money and you all flourish, Narasimharaju said when a team of first time producers approached him.
Urvashi Kannada film by Kalpatharu Films in 1969 starring Rajesh, Rajasri, Narasimharaju, Balakrishna, Shakthi Prasad, Dinesh, Sindhya, Subbanna, Hemavathi, Shivaramanna and others was the maiden production of current Education minister BC Nagesh paternal uncle B S Subbanna, A S Paramesh, PN Paramesh, Headmaster Paramesh, Vasanna, B S Basavaraj, Tipatur Raghu, Meenakshi Sundaram and others. Current Education minister B C Nagesh father MLA in those days B S Chandrasekhar wished for this film `Urvashi`.
Tipatur Raghu written the story on a murder mystery and he directed the film released in 1974. Ku Ra Seetharama Shastri, Ugranarasimha, DS Gangadhara Gowda written lyrics, Krishnaji Rao, S Janaki, LR Ishwari (for a club song shot at Talk of Town in Gandhinagar on Rajashri and Rajesh) delivered the songs. P Bhakthavatsalam edited the film, Udupi Jayaram came down to Bangalore to choreograph the club dance in Talk of the Town.
In those days for 'Urvashi' all friends thought of making the film in Rs.2 lakhs but it exceeded to Rs.4 lakhs. For four songs at Vahini Studio recording by Rathnam Rs.5000 was spent and S Janaki received Rs.250 as payment for one song. Bangalore to Madras was Rs.18 bus fare.
How to approach Narasimharaju was a big task. As B S Basavaraj was maintaining Raja Medicals after his return from Mumbai, he was frequently watching the Gubbi and Subbai Naidu companies camping for theater plays. It was possible for close watch of Dr Rajakumar, Balakrishna, Narasimharaju and others for him. The trio with fame and name never used to miss `Mylarappa Hotel`for Benne Dose and Ramanna Hotel for Idli. The affection for these hoteliers from Tumakur was so high and never used to charge for breakfast of the famous trio.
It was B S Basavaraj`s father who first approached Narasimharaju at the Coconut shop he was running because of the Tiptur youngster`s interest in making a film. I will act because they are children from our place. Narasimharaju immediately reacted.
Narasimharaju attended four to five days of shooting. When the payment was about to be made by Basaravaj and team he took just Rs.100 from the bunch of Rs.5000 and said after Karibasavaiah from Tumakur youngsters from our place are producing a film so I don`t take my usual payment told Narasimharaju. TR Narasimharaju used to come for shooting from KOTE colony house in Tiptur for shooting on his own.
At Ayyana Bhavi BH Road surroundings the film `Urvashi` was captured in the camera of Meenakshi Sundaram. King Distributor took up the release and `Urvashi` was released in `States`theater on KG Road.