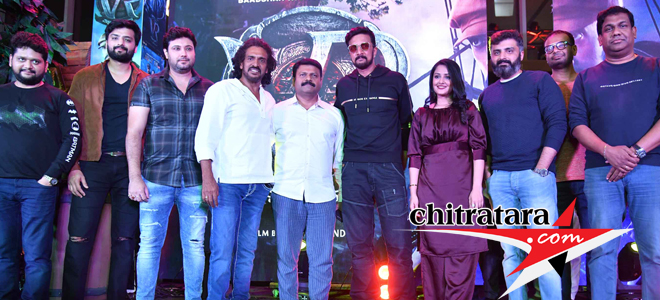 The stalwart actor and director besides being a producer Abhinaya Chakravarthy Kichcha Sudeep at the pre release event of `Vikrant Rona`saying `Nammure Nammuru` observed that it is because of Jack Manjunath and Anoop Bhandari this film reached to this level today.
Kichcha Sudeepa was in fine mood addressing the mammoth attendance at the Lulu World Mall. He sang the lullaby song Nanna Baalinalli Iruve…looking at his daughter Sanvi at the guest chair and there was an emotional moment. Sanvi Sudeepa thanked the proud father from the place she was sitting. Every child makes their father better in life opined Sudeepa.
For Kichcha Sudeepa, a fan Manoj Kumar presented a handmade jacket that had `World has New Hero`. Manoj Kumar came up with his wife and child to present the jacket.
Kichcha Sudeepa immensely thanked Upendra for coming to the event he said Anoop Bhandari is our pride. I am not the only hero of `Vikrant Rona`. There are several working for it. Mainly the strong Jack Manjunath because via my wife Priya he narrated the script to me and I did not know that he is very strong in taking up such a massive film Kichchcha observed. JACK MANJU IS HERO GALIGE HERO stated Kichcha Sudeepa.
Anoop Bhandari is very sweet like `Sathyanarayana Prasada` – he does not so easily. His R and D are great. Anoop narrates the tale for six hours, 3D and VFX are very important for this film, said Kichcha Sudeepa.
At the Lulu World Mall `Vikrant Rona` pre-release event is the first one to happen. For anchor Anushri`s well worded event on last Tuesday the first to come on dais was MLA of Chickpet Uday Garudachar.
Later music director Ajanish Lokanath, art director Shivakumar, director Anoop Bhandari, Nirup Bhandari, Nitha Ashok, dance director Johny (he remembered power star Puneeth Rajakumar), Jack Manjunath, Alankar Pandian and a few other team members of Vikrant Rona came up on the dais.