777 CHARLIE ON JULY 29th VOOT SELECT
Posted date: 28 Thu, Jul 2022 08:03:00 AM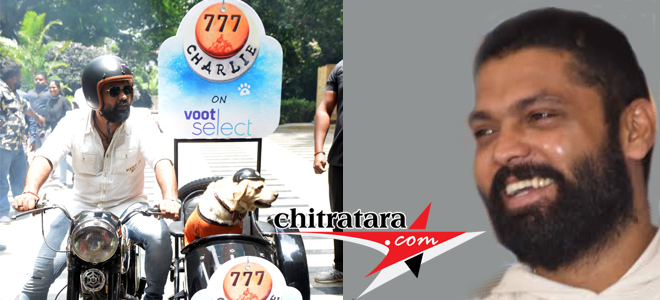 The Pan India film '777 Charlie' of Paramvah Studio that earned Rs.150 crores is appearing on Voot Select on July 29 and it is on the 49th day of screening. There was demand for a release on the OTT platform on the 25th day but Rakshit Shetty did not agree. The film is giving share till today he says on his proud venture.
On Wednesday at the entrance of GW Mariot Hotel Rakshit Shetty came with Charlie on a specially fit motorbike and the helmet for both looked quite different.
The emotional journey of Dharma and Charlie in '777 Charlie' in the direction of Kiran Raj is sure to attract the audience sitting at home, says Rakshit Shetty. On the promise he made to animal welfare and extra share to his team members he said that will happen once the full collection is remitted to the bank account.
Kannada Cinema's Latest Wallpapers
Kannada Cinema's Latest Videos
Kannada Movie/Cinema News - 777 CHARLIE ON JULY 29th VOOT SELECT - Chitratara.com
Copyright 2009 chitratara.com Reproduction is forbidden unless authorized. All rights reserved.