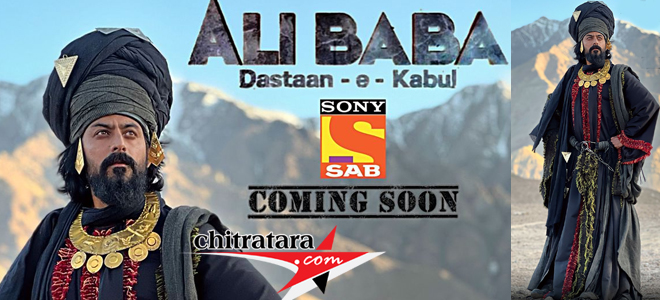 The tall and handsome hunk Jayaram Karthik has got another notable offer in Hindi Television serial 'Alibaba Dastaan-e-Kabul'; this is telecast in Sony Sab in this month. This is the second big catch for a Kannadiga after 'Siya Ka Raam' in which he played Raavan that was released in number of languages. Raavan role in 'Siya Ka Ram' JK played six years ago. Six is the lucky number of JK and a big offer coming after six years is another happiness of his.
JK plays the main antagonist IBLIS, king of Chalis Chor (40 thieves). An immortal role wants to rule the world and a very strong role to the protagonist Ali.
The first schedule for the shoot was held for this mega thriller. There was a wonderful projection of the character. The capacity is very well utilized. There was horse riding and it was the best experience for JK – Jayaram Karthik. Remembering the horse ride JK says he slipped from the horse once but by god`s grace there was no injury to him. He is attending the second schedule in Mumbai.
For the Kannada film industry JK makes it very clear that he has not shifted to Mumbai. Alibaba 40 Chor is a very popular tale produced by Penninsula Pictures that had given the best products in the past.
So watch me as IBLIS in Sony Sab from August month says JK sitting pretty in the professional career.
JK also acted in Hindi films such as 'Shabaash Mithu' a biopic on cricketer Mithali Raj, Pushpa I hate Tears and his Raavan role was well received that was dubbed in to foreign languages too.