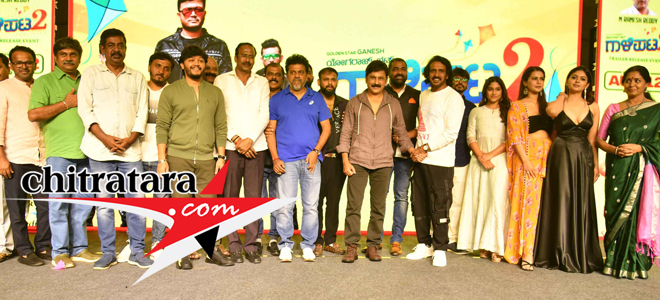 The popular stars of Kannada cinema Dr Shivarajakumar, Gentleman hero Ramesh Aravind and real star Upendra graced the trailer launch and pre release event of producer Ramesh Reddy Nangli ambitious production 'Galipata 2'.
Yogaraj Bhat is in the fourth film with golden star Ganesh and at the trailer launch there was slight pulling of legs, cracking jokes between the two. This is very common. But Dr Shivarajakumar made it a point that we should not give up our directors and they are 'Saraswathi Putras'. It reached the right ears!
KVN Venkat and Supreeth distribute the film from August 12 all over Karnataka and both are very confident of good response for the film 'Galipata 2'.
Then came Ba Ma Harish KFCC President, Dr Sanjay Gowda, K Manju and said friendship is more powerful than anything.
Rangayana Raghu and Sudha Belawadi, the parents of this film, were in full zoom. This is a Pakka Kannada film and it has many layers of life. This film had given me good memories. It is friendship first and then love, observed grand looking Amma Sudha Belawadi.
Pawan Kumar and Sharmila Mandre dance for a number with shyness. Pawan felt it was a real life experience coming to him. Sharmila explained how nervous Pawan Kumar was for a song shooting. I was scared before the shoot but he was scared in romantic moods she stated.
The cynosure of all eyes for her costume Vaybhavi Shandilya stated it is a film with fun and love with emotions. It is a feather in my cap, she said.
Nishwika Naidu is in a small role and said Galipata 2 is her favorite film. For further franchise I need an opportunity, she said.
Arjun Janya the music director this Galipata 2 is going to give back the laugh the people have lost in the last three years.
The lesson of friendship is told here and it is the biggest according to Yogaraj Bhat. What we don't tell our parents tell our friends. Rasthe Sambanda is more than Raktha Sambanda he stated. August 12 film is releasing Bhat repeatedly told.
Producer Ramesh Redy was in a good mood to speak and did not forget anyone in the auditorium to thank. The presence of Shivanna, Upendra and Ramesh Aravind made him 'Dilkush'. The people would accept this film, he felt. That is because of so much good content and very hard effort put into the film. The diving scene of Sharmila and Pawan Kumar he made special mention of and the experience of Kajakisthan was a wonderful experience he felt.
Golden star Ganesh says this is a 'Praminika effort'. It is one of the best combinations and this confidence I got after dubbing. I did not call up Yogaraj Bhat after dubbing for the previous three films. I did it for this film because of so many elements.
Dr Shiv, Upendra and Ramesh Aravind are very optimistic of good results. Shreyas Manju wished good luck to the good hearts like producer Ramesh Reddy and others.