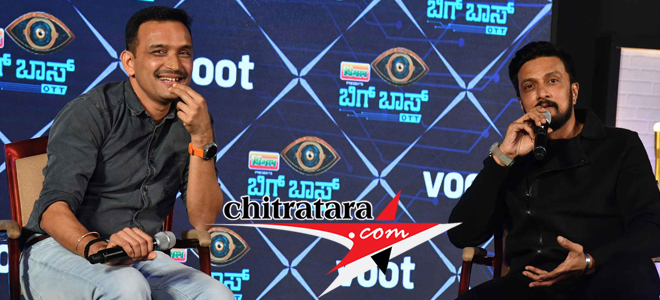 This is the first season clearly made by Kichcha Sudeepa, Parameshwar Gundkal and others. That is because it is a prelude to the major season 9 100 days event that is taking place soon after a 42 days stay of 16 contestants picked mainly from digital platforms. There will be not just one winner but winners of this season 1 of Big Boss in Voot OTT platform.
On Monday afternoon at the ITC Gardenia Ferzad Palia, Head SVOD and international business at Viacom 18 Rishi Negi CEO Endemol Shine India addressed the media.
Mr Ferzad Palia says we at voot have successfully built a versatile and immersive digital ecosystem. Continuous efforts indentify white spaces in the category and pursue regional growth opportunities helped us to successfully amp up our offerings cutting across genres and formats.
Rishi Negi, CEO of Endemol Shine India Bigg Boss Kannada has amassed great popularity from the crowd in the previous years. With a lineup of interesting participants and its fair share of ups and downs, it has been one of the most popular shows in the reality TV segment. Now the audience favorite is back in a new avatar in a new interactive version with the maiden digital exclusive edition of Bigg Boss OTT Kannada. We hope that this latest offering also turns out to be a blockbuster entertainment that further leverages our collective reach in the Kannada market.
Kichcha Sudeep on this new method of entertainment says he gives the credit for the promo looks to Parameshwar Gundkal and works with same seriousness for Voot OTT platform. My job is the same and it does not matter whether it is Voot or regular pattern. In the 42 days reality show I come on every Saturday. He is happy for all the eight episodes of Big Boss and 9th one with new one Voot OTT making him to conduct the show.
Season six was toughest for me Sudeep remembers but the last two seasons it has been very encouraging and inspiring. I have changes in my personality. I also have social responsibility and this one I am expecting more he mentioned. There is nothing planned and I have been very clear to my friends and relatives that my influence will not work in the selection of participants.
According to Parameshwar Gundkal Business Head, Kannada cluster, Viacom 18 there will be 16 in the Big Boss 1st season and almost all are celebrities familiar with digital platforms. There will be a few from 16 who enter the Bigg Boss 9 season that starts soon after Voot OTT of Big Boss season 1. Param happiness is because Sudeepa it is possible and in other languages the show conductors have changed. What is not happening in other languages is happening in Kannada he feels proud.
There will be 24/7 live streaming which makes this house a lot more interactive. I am sure that this is going to be an exciting journey from August 6 he says.