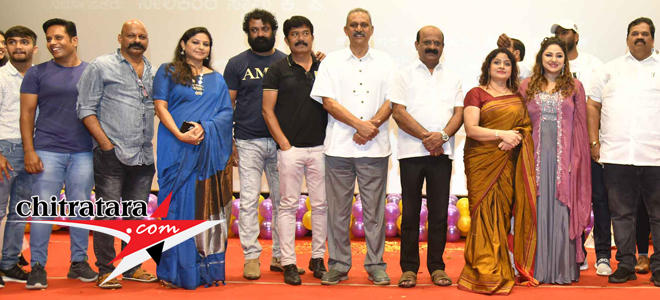 At the trailer and audio launch of Abhinaya Apsare Priyanka Upendra 'Ms Nandini' obviously the cynosure was music director Sai Sarvesh – the three beautiful songs O Sharade Ninna Padake…Igiga Eneno Aguthide…and most touching one shot after demise of Bhavya character Devaru Nidiruva Bharava Lekkisade….made the gathering spell bound for its lyrical strength and singing ability.
Music director thanked his team members for supporting him to score music for the film.
Director Gurudat has won half of the match of this 'Ms Nandini' – the content wise also the film is very pertinent. Kannada Belsor Beda Balsoru Beku… is well cointed.
After the fans of Priyanka Upendra honored her with 'Abhinaya Apsare' it was Niranjan Deshpande who did much of the talking and made the event elaborate.
Kadur MLA Belli Pakash felt happy for his local youths doing a good job. He is interested in producing a film after 2023 Assembly elections – he is sure of winning his seat. Meanwhile, an avid film viewer, he watches two films a week. I am the only MLA who watches more films he said. On his maiden production sometime next year Belli Prakash with finger rings for all his ten fingers wants to play the villain role in his production.
Director Gurudat thanked for the cooperation he got from the producer team. It was difficult to get permission, the film is not only to educate children in government schools but also to entertain. Earlier he had announced that this film will be in other languages. Now he says Ms Nandini will be releasing only in Kannada language.
Veteran actress Bhavya explained the role she has performed and that was evident from one song of her last journey. It is Bhavya`s character who hands over the responsibility of her daughter to Ms Nandini in this film.
Priyanka Upendra in the lead role of a government school teacher Ms Nandini felt happy for doing the role and said she came to know a lot of things working for the film.
Sheetal Shetty Television anchor, actor and director present to wish the team. It is in her studio Sheetal Studio dubbing for this film was done.
Cinematographer Nagaraj Murthy, Akka Anu team (popular in social media for good service to government schools – she and her team did painting of 106 government schools of course with the support of donors). Sidlingu Sridhar, chief minister in the film, Danny Kuttappa, Raghu Pandeshwar, Lakshmi Siddaiah who played the lawyer for the first time in her career, says the film 'Ms Nandini' has valuable contents spoken on this occasion.