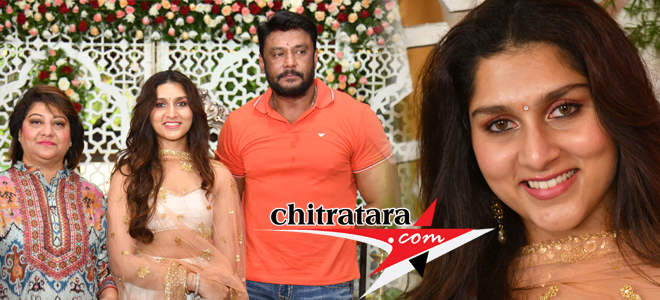 It is the entry of another star family daughter to Kannada filmdom. That is Radhana Ram (Ananya) daughter of Kanasina Rani Malashri and producer Ramu.
It is sad that producer Ramu is not living today to see the commencement of her daughter`s film entry but he wished that Ananya`s name should be changed when she enters the cinema industry. Thus it is 'Radhana Ram'.
Pretty, tall, unassuming and with strong knowledge in the acting profession Radhana Ram arrives in Darshan starring film 'D56' in the direction of Tarun Sudhir and in the prestigious production of Rockline Venkatesh.
Malashri who ruled the industry in the 90`s was earlier Durgi and the name Malashri was kept by Dr Parvathamma Rajakumar for 'Nanjundi Kalyana' blockbuster film in the cinema life of Raghavendra Rajakumar too. Malashri was 14 years old when she entered the cinema industry. Today at the age of 21 Radhana Ram is making debut in the challenging star Darshan film.
Radhana Ram debut film untitled went on the floors at Sri Ravishanker Guruji ashram on Kanakapura Road. Producer Rockline Venkatesh made all arrangements for the grand launch on the auspicious Varamahalakshmi temple.
Radhana Ram is in shock and surprise on her debut with too big star and production house. She has completed MBA and taken training in dance, acting and feels happy for parents also from the cinema industry. I had initial support from my father and he was telling a lot of things about the cinema industry. For the debut film I will come prepared for the sets she says.
My daughter is very lucky to get this banner and team headed by Darshanji. I had seen director Tharun Sudhir`s work. Rockline Venkatesh whom I have known for a long time had told me to keep the announcement of my daughter as heroine to give a big surprise. My daughter, for this surprise, was shocked and extremely happy, says Malashri.
Malashri further says she has full confidence in her daughter. She should develop her own identity. She should not become like me. Kannadigas have given me utmost love and affection. I urge for the same support and blessings for my daughter as mentioned by Malashri. We were looking for a unique name and it is Radhana Ram, adds Malashri.