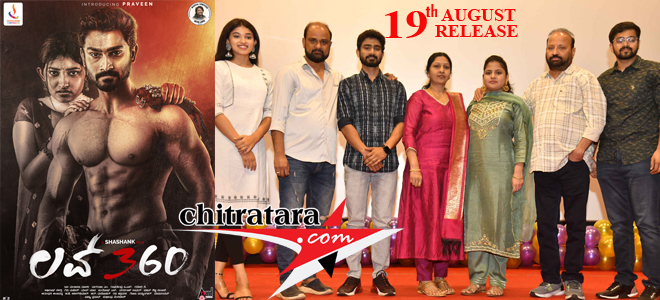 The Karunada Chakravarthy Dr Shivarajakumar releasing the trailer of Shashank production and direction 'Love 360' noticed some special features in the director and said this film has every chance of doing good in the box office. I have been noticing Shashank for a long time, we should have worked sometime ago and he comes up with unique thoughts in his works lauded Shivanna. He also liked the song of Sid Sriram Jagave Nanna Gelathiye…
Director cum producer Shashank on the pre release occasion of his much anticipated film Love 360 said we have traveled in some parts of Karnataka and the gathering is so good and they use to recite the song Jagave….In my career I was sure of my makings and in some cases it did not work out. I have come out from my aggressive saying, says Shashank. It is important to build expectations and then making it to reach is also important. We have one promotional song before the film release on August 19 he says.
Rachana Inder, main lead of the film, explained the welcome she had received from youths in colleges and other places. The song Jagave…already audience recite the lines so well she felt happy.
Some have told me I am not a hero looking. But when I went to the rallies a lot of people liked me and welcomed me. The happiness after release I am finding it already. I should thank Appu fans in Hospet and Ballari for supporting our pre release meetings, said hero Praveen in his address.
Mahantesh is of strong opinion that audiences would come to the theaters. Sujith plays an important character and it is a surprise role. After eight serials in Tamil he is in his second film.
Danny Kuttappa feeling proud of working in the Shashank team 'Love 360'.