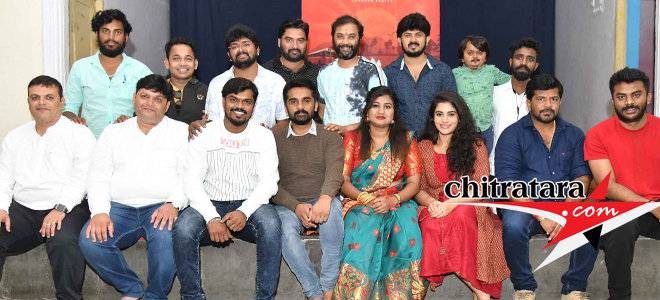 On the auspicious and very busy day for the media the new Kannada film 'Elra Kaleleyuthe Kaala' song was released at Sankranthi Kalyana Mantapa in Banashankari.
A very popular comedy actor Sujay Shastri very quickly in his career heads the megaphone. Chandan Shetty Pop king, Archana Kottige forms the main cast of this film. Rajguru Hoskote has penned story, screenplay and dialogue for this interesting film that is picked from one of the dialogues of Upendra film.
Praveen and Pradeep music directors, Bigg Boss winner Manju Pavagada present at the song release event. The song was released on Varamahalakshmi Day sung by Gururaj Hoskote and music directors Praveen and Pradeep.
The film produced by Usha Govindaraju has commenced the publicity work via Gold Factory song. It is a marriage reception song. In the same Kalyana Mantapa the song was shot. It will be out in five or ten days for social media. This is an 80`s tale. One incident in a person`s life how it creates an atmosphere change – Kala meaning time will not leave anyone. It pulls the legs of everyone. Chandan and Archana chemistry has worked out very well. We had a workshop so that the characters behavior is close to reality. They should behave but not act with intention. The entire film has shaped up well. I am indebted to everyone mentioned comedy actor and director of the film Sujay Shastri.
We have a Gold Factory song release today. I am angry at this song. There is a reason for it. The song and the film have come out very well. I have learnt a lot from Sujay Shastri. He mould me very well for the character explained popular pop singer and composer Chandan Shetty in his role.
Archana Kottige wanted to act in a comedy film and she had fulfilled her wish. Tara Anuradha, Dattanna, Mandya Ramesh, Manju Pavagada, Rajanikanth and others are in the cast of 'Elra Kaleleyuthe Kaala'.