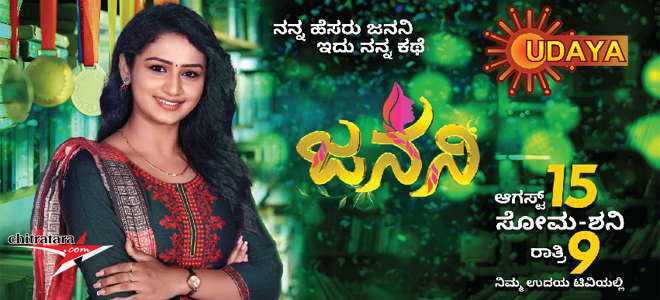 Udaya Channel, who have given hit serials like, Sevanti, Sundari, Netravati, Gouripurada Gayyaligalu, Nayanthara, Radhika, etc., will now present to its esteemed viewers a brand new serial called ``Janani``.
``Janani`` is a family oriented serial. The father of Janani, the heroine of this story, works hard day and night to give her daughter a good education so that she can achieve great things. Due to some reasons, she gets married immediately after graduation.
She will marry with great expectations and also with an eye on her goal. This story, portrays a girl with the talent - faces all the problems in her maternal home, the house where she gets married, the society where she lives.
It also portrays how she becomes an inspiration to other girls like her who wants to achieve something in life, and also explains in great detail the pain behind how she achieves success.
Every human being is born with a desire and a goal. A woman has her own hundreds of dreams and desires. But for her to achieve her dreams she has to have the support of the family where she was born from home and also from the family where she gets married, after all the struggles at home the hardships she has to go through in the society is all explained. It is a touching story of how Janani, the heroine of this story, faces all the problems, fights and achieves success through all these hardships and goes out to fight.
This serial is being produced by Chi.Gurudutt`s production company Saradas Cinemas under the direction of Honesh Ramachandraiah. Varshika as the heroine and Pradeep Tipatur and Divya Gopal as the heroine`s parents and new introduction Mangalore talent Kiran as the Hero and Pushpa Swamy as the hero`s mother and Muni of Mangalya serial fame as the hero`s elder brother is playing a very important role along with Laxman, Arun, Shweta, Roopa, Shilpa Iyer who are playing supporting casts.