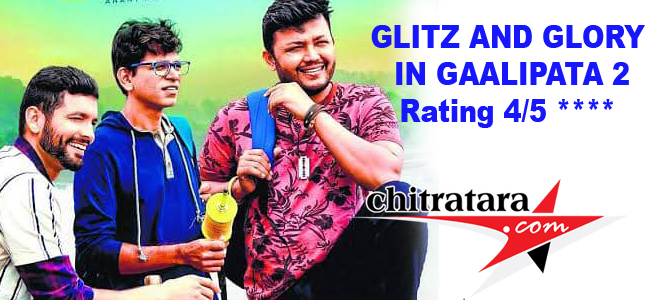 Duration – 150 minutes, Category – Love and Sentiment, Score – 4/5
Title – GAALIPATA 2, Producer – Ramesh Reddy of SP Production, Direction – Yogaraj Bhat, Cinematography – Santosh Rai Pathaje, Music – Arjun Janya, Cast – Ganesh, Diganth, Pawan Kumar, Anant Nag, Vaibhavi Shandilya, Sharmila Mandre, Samyuktha Menon, Nishwika Naidu, Rangayana Raghu, Sudha Belawadi, Dr Srinath and others.
The magic has happened again from Yogaraj Bhat and Golden star Ganesh combination with huge support from co actors, cinematography and music! That is 'Galipata 2'. It has all ingredients for a family audience and Kannada audience can boast of such a high quality film with contents that is supported by lavish producer Ramesh Reddy (Nangli).
The first half moves like a bullet train and in the second half Yogaraj Bhat makes the audience sit quietly and watch the proceedings that are filled with a very good mother sentiment. While the first half is a cakewalk the second half 'Mother Honey' on the cake that collects a few drops of water in the eyes.
The challenge before Yogaraj Bhat with a sequel of 14 years ago 'Galipata' is well met but it is not actually a sequel. The combination of Yogaraj Bhat and Golden star Ganesh is at the higher level. In fact the film has a stiff competition in technicality from Santosh Rai Pathaje and music director Arjun Janya – both are supreme.
As the trio Ganesh, Diganth and Pawan in a dilapidated Kannada school with Kannada teacher Anant Nag meet the dear ones but each one has a separate track. Ganesh falls in love with Vaibhavi but he loves to be fun loving at any cost, Diganth has a clash with his ex lover Samyuktha Menon, Pawan Kumar is bowled over to the beauty of his teacher Sharmila Mandre. The fun, pranks and pretty interesting factors in the first half ends up with an accident to Kannada professor Anant Nag. This is narrated in the flashback but the trio in front of the Kannada teacher.
Now the lost child of Kannada teacher Anant Nag has become the priority for the trio. They are settled well in life and now take a trip with a Kannada teacher to Turkey where the kite festival takes place and in a similar kite festival Anant Nag lost his son.
The journey of the trio to an unknown place is another interesting part and the cinematographer has given a feast to the eyes. What happens in the climax, whether the lost son is found, the extreme fun loving Ganesh has changed his attitudes, whether Pawan Kumar gets the teacher he was adoring, Diganth and Samyuktha Menon issue is sorted out? All you have to do is watch it on the silver screen without fail.
Anant Nag lives the role to the core. Ganesh as main protagonist 'Nagasthare, Alisthare and Kunisthare'- he is like Benne Krishna in close up frames, Diganth has a different kind of role which has done superbly, for Pawan Kumar looks extremely fit for the role and he has done proper justice.
The trio Vaibhavi, Samyuktha and Sharmila given proper requirements for their roles, Nishwika Naidu in a short presence is impressive.
The portion of Rangayana Raghu and Sudha Belawadi is another high point of the film. Sudha Belawadi should get an award for her lively performance.
Arjun Janya has come out with some classic numbers such as Neenu Bagehariyada Hadu….Prayashaha of Sonu Nigam is top beauty of the film because at one stage it matches all characters situations in their life.
Santosh Rai Pathaje as cinematographer is so capable and he is alert in getting visual treat to the eyes. The situation in the film – rain, rain and rain is so perfect to the present situation in real life today. It is a strange coincidence.
Editor should have convinced Yogaraj Bhat in trimming the film by twenty minutes. Yet it is a wholesome family entertainer. Book your tickets without fail to watch this film.