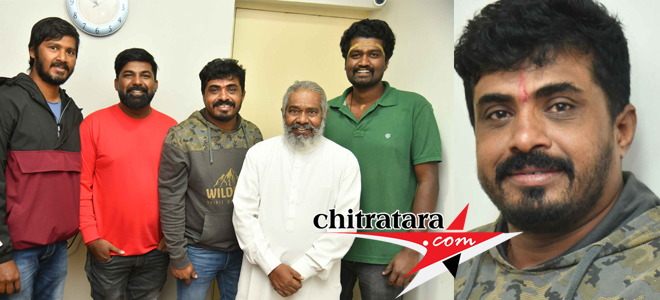 The director of Manasina Putadali and Brand Prashanth K Shetty is back as director and producer of 'Nan Rowdy' that speaks on the dreams of youths.
The film is ready for release and the film trailer and songs screened as pre release meet. The director and producer Prashanth K Shetty is the main actor and the film is made in Kannada and dubbed to Telugu and Hindi languages.
Tanushri Chatarji is the female lead and for an item song Sameera Khan stepped in this film. Veteran in desi songs and composer, singer Gururaja Hoskote is lyricist and composer for this film.
Ten years ago Prashanth K Shetty made Manasina Putadali and five years ago Brand Kannada cinema. Both films did not do well, he admits. But this time his subject has come from a friend that haunted him too much. It is basically a brother and sister concept. The brother in this case is a rowdy. He meets the needs of his sister from his underworld activities. This is set in a village and city backdrop. In Davanagere, Bengaluru, Channagiri and Mumbai surroundings the shoot was held for this film.
Tanushri is popular in Bojpuri, Gujarati and Bengali languages and acted in over 70 films. There are six songs from Gururaja Hoskote and background music is done by Vinu Manasu.
Gururaja Hoskote has not given up Janapada style in his compositions. It is a two years attempt and making cinema is like jumping in a waterless pond, he says.
Stephen has done the item song for this film and Prashanth is like my brother. He does not have any show off, says Vinu Manasu.
Moulya Chetan, watching the film, agreed for distribution. Anaji Nagaraj is cinematographer. Rajesh Chauhan is editor of this film.