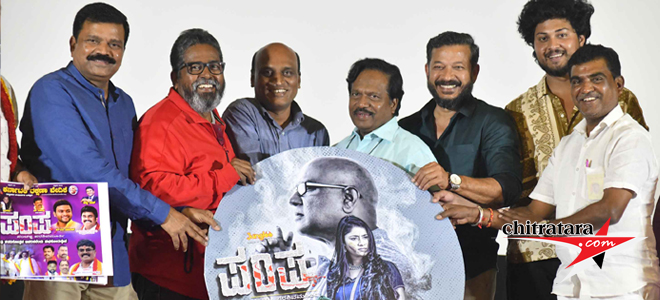 The Total Kannada Lakshmipathi V in KE productions has surpassed the first hurdle. The three songs screened yesterday evening at Chamundesware Studio justified it. Hamsalekha has done the magic as all the three songs are meaningful and melodious.
O Nanna Akshara…sung by Ankitha Kundu, Namma Naadi Geethe Odanadi Geethe….and Kannike Kannike….are good in lyrics and executed well by Nadabrahma Hamsalekha.
The film Pampa in the direction of S Mahender, a senior director, is set for release on 9th September 2022. The chief guests at the audio release event were national acclaimed director and Kannada Abhivruddi Pradhikara President TS Nagabharana, noted writer and journalist Jogi addressed on this occasion. Singer Ravindra Soragavi, Aditya Shetty and Aravind Rao, actors of the film, were also on the dais.
Manasina Bhavane Moodisuththe…mentioned TS Nagabharana on the quality of Hamsalekha lyrics and compositions. In the speedy world 'Ottare Kannada' (for Total Kannada) has given good work via songs. It is not easy to do 'Kannada Kelsa', it should happen over a period of time achieving goals. The strong will power of Lakshmipathi needs support and congratulations pointed out by TSN.
On knowing that this 'Pampa' is different from Adikavi Pampa journalist Jogi, an eminent writer stated all those who do Kannada Kelsa are 'Pampa'. He recalled the slow and fast pace topics, Forrest Gump in his address.
Aravind Rao was Dilkush because he was sitting with noted director TS Nagabharana who introduced him 20 years ago in Mahamayi TV serial. I did not look back after that and I thank TSN for that. I play an investigative cop in this film, he said.
Aditya Shetty disclosed his experience of shooting and opportunity to share the dais at audio launch with dignitaries.
I did not want to give cinematic glorification in this film, stated director of 35 films S Mahender. In Pampa the issue of Kannada is mixed with poetic murder mystery. Three love stories you would find and feel completely different. I have purposefully selected artists with less image for this film. Don't look at this film from 'Haladi Kannu'. When I started this project via Hamsalekha I questioned the producer thrice to stop the project but his 'Hata' and passion made me complete the project with some novelty added by director S Mahender.
Feeling happy for the Pampa situation today Lakshmipathi said the date is set for release as 9-9-2022. Times Junglee music is bringing the audio songs to the market he stated.