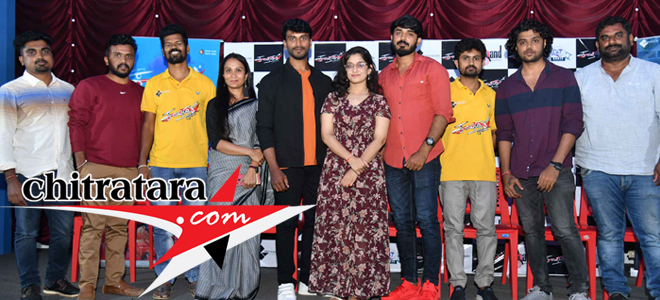 A short film maker Navan Srinivas making debut on big screen via 'Kambli Hula' has come up with a lovely song 'Jari Biddaru Yaaki Nagu…Chachu Tappade Dinavu Sigu….sung by Vijaprakash, Sangeetha Ravindranath with chorus singers. Almost all the team members hail from Haasan district.
The song penned by Mahadeva swamy is the inspiration from a particular shot of 'Mungaru Male' in which Golden star Ganesh falls into the pit and the heroine laughs at it. Mahadeva Swamy, friend of director Navan Srinivas explained how the song came up to the final shape.
'Kambli Hula' with the caption Ellararalagondu is a journey of different emotions in two hours plus says Navan Srinivas, short film maker of Putkosi, Goni Cheela, Jodi Kudure etc. This story he had written before his short film debut in 2011. He has shot for 85 days for this film in Sakaleshapura, Sringeri, Thirthahalli and other places. There is bondage between father and daughter, friendship etc in the concept. The promo for the song released in the old Doordarshan pattern of news reading looked interesting.
Kambli Hula is a film from three civil engineers as producers and all of them are Haasanites. Crossing two lock down situations we have reached a good stage. Like the escalation in our construction field there was a similar situation for the film production to agrees Saveen Haasan who owns Maruthi Grey Square company.
Anjan Nagendra from sundry roles (Kirik Party, one of his films) is Nataraj character who is also civil engineer by profession and also in the film. We have done enough rehearsal before coming to shoot he says.
Ashwitha Hegde with theater background and Anavarana TV serial have a bit of Malayalam accent in her dialogue delivery. She studied in Vijayanagara Bimba and it is a dream come true in the movie acting exploration she says.
Co actor in the film Rohit is in a lineman role and it is such a coincidence he is professionally in the same field.
Sandhya Ninasam, Satish Rajendran cinematographer also spoke on their work at the media meet.
Shivaprasad attached to the AR Rehman institute has done music for four songs. Online music was done with support from Hungary studio.