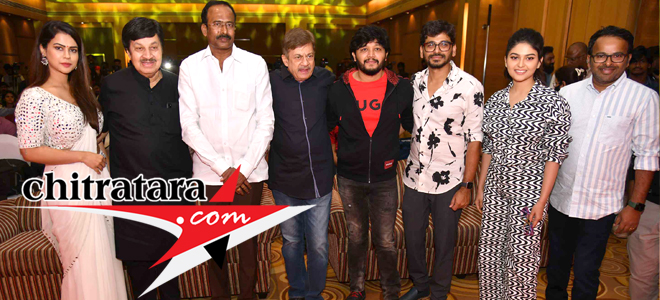 After four times failing in box office finally I have become Pass. This is Galipata 2 producer Ramesh Reddy Nangli telling the media at the thanksgiving meet on Wednesday night at Lalith Ashok Hotel.
Asked at the box office, the marks card producer Ramesh Reddy (for the question of Manu of www.chitratara.com) said the marks card is getting printed! At this juncture the entire auditorium expressed laughter at the time sense of the producer. Further Ramesh Reddy told repeatedly that this meet is only to thank the media for very good support and also to the team members of 'Galipata 2'. Ramesh Reddy wants to meet again and it will be a success not now, he pointed out clearly. Anant Nag sir brought courage in me to go ahead as I did not know the story of 'Galipata 2'. He also made suggestions at the interval point that worked out well, he added.
A two hours long drawn out 'Thanks Giving for Media' meet Santosh Rai Pathaje ace cameraman today disclosed that single theaters are telling that the dust in the front seats have gone. That means even in Gandhi Class the audiences are thronging to watch 'Galipata 2'.
Dance director Dhananjay, Mohan Pandit, production managers Ravishanker, Suresh, Vishwa Reddy, Padmaja Rao, Supreeth distributor, Anand Audio Shyam, Bullet Prakash son and others spoke on the occasion.
According to Rangayana Raghu this is a big change. This 'Kannada India Cinema' he coined and said producer Ramesh Reddy is a rank student and first bencher today.
Dr Srinath, a principal in the film, said he was waiting to act in Yogaraj Bhat film and told Ganesh when he is making another film with him and I would live for 20 more years.
Anant Nag, a versatile actor appreciating the brilliance of Yogaraj Bhat said he is yet to see the brilliance of Rangayana Raghu. I have a special equation with Golden star Ganesh and his style is similar to me 'Natural' in acting, he said. For this compliment Ganesh came up on stage and touched the feet of Anant Nag. This Galipata 2 is educative, entertaining and enlightening, he pointed out.
It is bechchane Bhaavane said poet Jayanth Kaikini and Tikkaluthana, Chadapadike of Yogaraj Bhat should continue to give this type of film he stated.
Out of four beautiful girls only Vaibhavi Shandilya and Sharmila Mandre attended the thanksgiving event. Vaibhavi of Mumbai disclosed how her role of 'Shwetha' got recognition in her place and the audience.
Yee Nadina Janarige Dheerga Dhanda Namaskara said Yogaraj Bhat and remembered that he was brought in the correct direction by Anant Nag. This is Amara Kannada Chitra. The combination of me and Ganesh is liked and Ganesh is such an actor who brings proper justification by sealing what is correct acting for situations Bhat recalled.
Pawan Kumar remembered the sweet tragedy that happened to him from this film. There will be 'Galipata 3' and I will be in the team. On Yogaraj Bhat style of handling situations Pawan Kumar himself a director said he still feels he should work under Yogaraj Bhat.
Golden star Ganesh spoke from the beginning of production and agreed with Jayanth Kaikini`s statement that 'Tikkaluthana' of Bhat should continue. When he is silent we get upset, he said. Had the interval portion not been corrected the film would not have completed Ganesh stated at this 'Thanks Giving' event of Galipata 2.