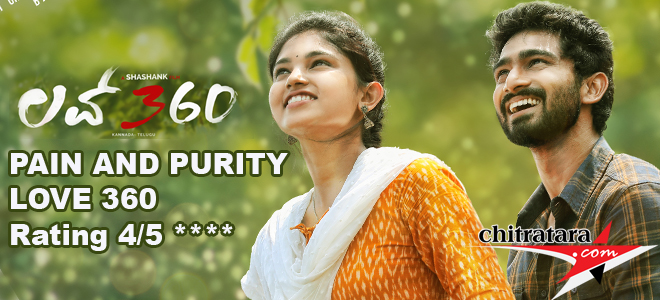 K S Vasu
Duration – 135 minutes, Category – Love Story, Score – 4/5
Title – LOVE 360, Producer – Shashank Cinemass, Direction – Shashank, Cinematography – Abhilash Kalati, Music – Arjun Janya, Cast – Praveen, Rachana Inder, Gopalakrishna Deshpande, Babu Hirannaiah, Kavya, Mahantesh, Sujith,Dr King Moohan, Danny Kuttappa and others.
Love never did run smooth! Director of high caliber Shashank returning with another poignant love story places a lot of ticklish situations to give a new look to the love story. What happens when pure love is at the height of difficulty? For all lovers of this universe 'Love 360' is a standing example. How you have to protect your lover in extremely difficult situations – Shashank takes a look and touches the hearts of the audience. In fact the title of the film is befitting to the contents that flow very well on silver screen with lovely cinematography from Abhilash Kalati and a few lovely tunes from Arjun Janya.
Shashank is a growing director. There is no doubt about it. If one type of crop fails he knows how quickly another should be ready in this tinsel town. The pandemic might have gobbled huge time but otherwise he is on a right march from 'Love 360'. The detailing he has worked for this particular film is brilliant. For budding directors this film is a good lesson.
We have two orphans grown up in Arunodaya Ashram. Ram and Janu alias Janaki, childhood friends – as they grow the friendship continues. Raam is very fond of Jaanu. The obvious reason is a short time memory loss ailment in her. He guards her from childhood and it becomes a habit in his life to give protection to her.
As they grow up living together director Shashank has shown great degree of loyalty in love. Ram is not even ready to hug Jaanu unless she is completely fit enough. Jaanu on the other hand is equally fond of Raam. She has learnt a few tricks from Raam to face the difficult situations with her ailment.
But tragedy strikes in the life of so loving friends. Jaanu is charged with a murder case and imprisoned. Raam is very sure that Jaanu is innocent in this case. The rest is the investigation part and how cleverly Raam saves his loving Jaanu.
Post interval there are a few twists and turns that absolutely require a commercial cinema. Shashank gives a thought to the brains of audiences as they vacate the seat.
Praveen is not only a macho hero, the second one hails from Hospet (the first one is Ajay Rao). He has emoted well and his struggle to save her lover at any cost is impressive. He is an action hero too and has a good physique.
Rachana Inder should get a few awards for her lovely performance. She is innocent and touches the hearts with such a given situation to her character. She has plenty of milestones to achieve in her career.
Gopal Deshpande as cop handling the murder case is another talented actor. He looks natural in his role and his last sentence to hero Raam is enough to show humanity in cops.
Kavya has a different role that she has performed convincingly. Dr King Moohan in Politician Father Danny Kuttappa looks gruesome and does his best; Mahantesh with a bush like hairstyle brings in a change to the flow of the film. Sujith as a drug peddler has got a good mileage to prove his ability. So much beating was not necessary.
Sid Sriram song Jagave Neenu Gelathiye….is not only beautifully rendered but suits the protagonist character immaculately. Sakhiye Savarisu…is another notable song of this film 'Love 360' from ace composer Arjun Janya.
Cinematographer Abhilash Kalati takes the film with ease through his frames and that supports the film precisely. For the Kannada cinema industry Abhilash is another asset and his clever handling is appreciable.
Worth a Dekko….Shashank what next you have caught up with as far as love stories are concerned?