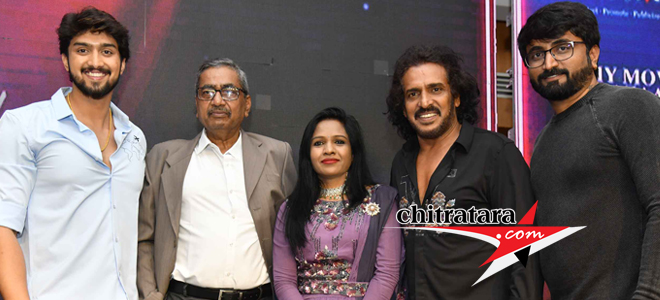 The new banner in Kannada filmdom 'Ramas Media Creations' launched at Lalith Ashok announced the first film in the banner is Niranjan Sudheedra 'Super Star' Kannada film. On the occasion of Ramas Media Creations launch the logo of the banner was released by super star Upendra. Niranjan is Upendra`s brother Sudheendra son.
Ms Rama of Ramas Media Creations stated that in adjacent Andhra Pradesh a few Telugu films were produced and this for the first time coming to Kannada filmdom. Ms Rama is the daughter of retired police official Sathyanarayana. We have different sister concerns and when I was in Bengaluru director Ramesh Venkatesh Babu talked about this film `Super Star`. The content attracted me. Niranjan is a good looking actor. A good quality film is sure to come, hopes Ms Rama. We have plans for another film in the director and actor combination adds Rama.
Director Ramesh Venkatesh Babu disclosed how he came in touch with Rama Madam. She liked the story I narrated. The shoot is going on luxuriously. The film has completed shooting almost and final touches are in process, adds the director.
I am working hard for this film Super Star. I took permission from my Chikkappa Upendra for the title. I am sure there will be no damage to this title. I thank Ramas Media Creations for coming forward to produce this film stated Niranjan Sudheendra.
Super star Upendra present on the occasion lauded the new production house. Coming from an adjacent state they deserve all good wishes, he said. I know how Niranjan struggles for good output. Not only me, even Sudeepa expressed his happiness that Niranjan should come up in cinema. Today is Niranjan`s birthday. I wish him all the success said Upendra.
KFCC President Ba Ma Harish, VP Shilpa Srinivas and others graced the occasion. Niranjan celebrated his birthday in the presence of all invitees.