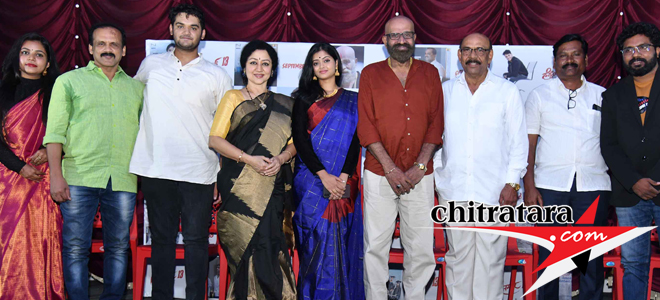 A team of knowledgeable persons Ivan Nigli, Dr.Rajah Balakrishna and others arrived at a meaningful and attractive film that gives salutation to the nurse fraternity in 'September 13'. The day is not 'Nurse Day', it is May 12. The film gives a justification to the title and we don't want to reveal it, says Ivan I.
On Monday evening two songs and a video of 'September 13' screened at the crowded Sri Renukamba Digital Theater. O Samayave Nenapa…. And a Nurse song Gaganave Chumbisuva…with 100 in a Nurse costume looked different.
One of the producers Ivan Nigli, also story writer from his experience during the Corona time, says there are eight producers for this film that pays tribute to Nurse Fraternity. There are nearly 150 actors. He says there is no violence or sex in the film. It is about the Karnataka born girl who wants to become a Nurse with humanity and morality who grows up against all odds. We just want our investment back from this film and nothing else he adds.
Director Dr Raja Balakrishna, maker for eight films for UNESCO, also plays a Khadak villain in this film. He is also editor and cinematographer for the film. About girl child ambition, how it is fulfilled. He had seen suffering of the people especially at Corona time and it is only Nurse Fraternity that worked so well he says. There are seven separate characters and all of them connect.
Noted actress of over six languages Vinayaprasad disclosed an incident that she encountered when she was there in a doctor role for a film. When we checked for a group of nurses, around 10 nurses (Shushookiyaru) came to meet for the shooting and all of them were Indians of different regions. This film in particular speaks about the life of a nurse after undergoing a lot of stress with the patients. At midnight the message about patients is given by these nurses. Let this film get a reward and award, says Vinayaprasad.
Actor for the first time Shreya, Sathya Ramdas, Chintan Rao, Nagesh Mayya, President Karnataka Nurse Association Rajakumar and music director Justin spoke on this occasion.
Music director Justin singing a Kannada song on Nurse is justifying and very melodious indeed.