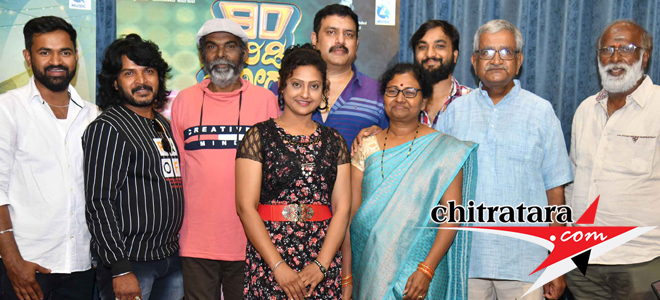 We have seen comedy actors turning hero after 100 films, villains turning heroes on screen. Here is a character artist of nearly 499 films in Kannada turning hero in his 500th film – That is Vyjyanath Biradar an international award winner for his performance.
On Monday morning the team of Amma Talkies Bagalkot invited the media with 'Peda' to the media briefing. The most appreciable part was on screen at SRV theater. That is the dance number of Vyjyanath Biradar and Nita with other dancers in Bhushan choreography, Shivu Beragi lyrics and music Single Kan Hodithi Double Horn Baristhi….a peppy number the 70 plus actor Biradar performed dance with zeal and zoom.
Umesh Badaradinni, writer and director speaking on this occasion stated that the film has different variations in screenplay. It is not that we have given a chance to Biradar, he has given a chance to us.
Nagaraj Arehole says he is 30, Umesh sir 60 makes 90. Biradar 70 dancing with 20 Nita makes another 90. This is in Uttar Karnataka style maximum, the song released today is very special and the courage and enthusiasm of Biradar is nothing but 'Chaitanyada Kannadi' adds Nagaraj.
Shivu Beragi in his 7th film as music director and eminent writer in Uttar Kannada style says there is no double meaning at all in the song 'Single Kan double horn…come to our place I will show tractors with double horn he justifies his lines written for the film.
Dharma plays a cop with good screen share. Although I have not acted with Dr Raj, I have acted with 500 films and actor Vyjyanath is a happy moment, he adds.
Kari Subbu a veteran actor in his 51st year of profession recalled his days with late Ashok Badaradinni, elder brother of Umesh Badaradinni. Ashok is my mentor, I immensely liked his punctuality and lessons he taught in theater carrying me in the cinema field adds Kari Subbu.
A stage performer in different plays Nita says it is the theater experience that gives confidence. First time facing the camera was a different experience. I play a Vaishye in the film, a friend and later life partner in the life of Biradar. My mother Shylaya is a top actor on stage she disclosed.
Vyjyanath Biradar`s energy was evident in his speech on Monday afternoon. He remembered his profession`s beginning days. I studied up to 3rd standard and when I got an offer there was a graduate candidate. I wondered how I can pass the audition of Dharwad Panchalingeshwara Nataka Mandali. My stubborn nature to learn helped me. Later when `Bara`shooting was on in our place Bagalkot, I became friend to Anant Nag sir by offering him pure curd. Since then I have been moving ahead. I am satisfied; I might not have earned money. It is a satisfactory life from 500 films. For the song I had done rehearsal for five days and then worked before the camera he added. An artist is like a `Stone`– he should be chiseled for a variety of roles further says Biradar.
Veer Samarth, an eminent music director has done background score for this film turned emotional because a lot of Northern Karnataka talent is not getting recognition. Remembering Ravindra Soragavi who can sing one Raaga for hours in Hindustani style becomes popular only when he sings Chutu Chutu….song. Veer Samarth quoted another example of Yogaraj Bhat`s lovely song not getting recognition but Kaali Quarter Bottle….clicking.
Ravindra Soragavi, state award winning singer and Babu also spoke on this occasion.
Kiran Shanker is also music director with Shivu Beragi in this film `90 Bidi Manege Nadi`.