Bachelor Party is a satire
Posted date: 01 Thu, Sep 2022 02:40:38 PM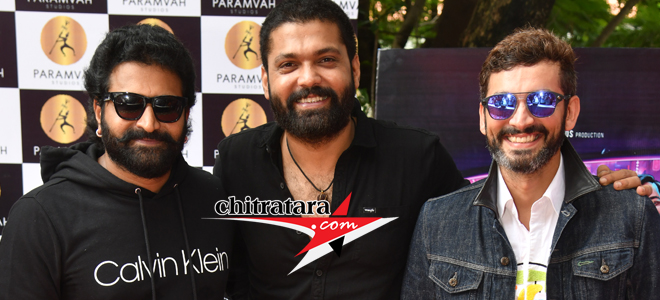 Rakshit Shetty`s Paramvah Studios has announced a new film; Bachelor Party, starring Diganth, Rishab Shetty and Achyuth Kumar. The title revealing poster of the film shows the three in a cab in Thailand. And as the name suggests they are out there to celebrate the bachelor`s party of one amongst them.
Two films of Paramvah Studios; Bachelor Party and Ibbani Tabbida Ileyali were launched simultaneously. Shooting for both film starts tomorrow.
Bachelor Party is directed by Abijith Mahesh who has worked with Rakshit Shetty`s films inclusion Kirik Party, Avane Srimannarayana and 777Charile. He said that Abijith is a master at comedy and many of the comedy punches in Kirik Party were his contributions.
Abijith said that the film is a satire and most of the shooting is scheduled in Bengaluru. Some portions of the film will be shot in Thailand. The second schedule of the film is not planned and will be taken up after matching the dates of Diganth, Rishab Shetty and Achyuth.
Kannada Cinema's Latest Wallpapers
Kannada Cinema's Latest Videos
Kannada Movie/Cinema News - Bachelor Party is a satire - Chitratara.com
Copyright 2009 chitratara.com Reproduction is forbidden unless authorized. All rights reserved.