LUCKYMAN MOST ENTERTAINING FILM OF YEAR - Rating 4/5 ****
Posted date: 09 Fri, Sep 2022 03:02:27 PM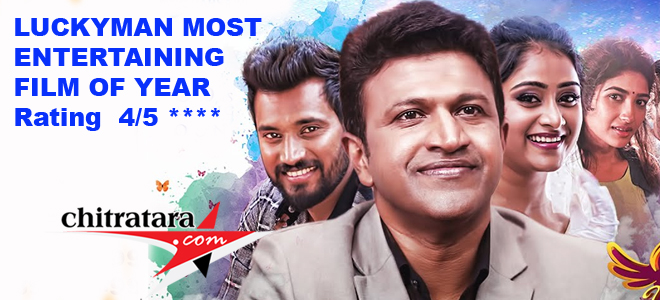 Film: Lucky Man
Cast: Puneeth Rajkumar, Darling Krishna, Sangeetha Sringeri, Roshini Prakash, Rangayana Raghu, Sundar Raj, Nagabhushan, Sadhu Kokila
Director: S Nagendra Prasad
Duration: 153 minutes
Certificate: U
Stars: 4/5
Luckyman is one of the most entertaining Kannada films of the year. It has fun, entertainment, romance and emotions in equal measure making it a perfect film to watch with the family.
Apart from being a good romantic entertainer, the film also has Puneeth Rajkumar in a very special role. He plays God and this extraordinary character is the biggest highlight of the film. There is no doubt that he will make fans go crazy.
The film is about two childhood friends who end up marrying on the premise that living with someone you know is better than an arranged marriage. But within an year they are in a family court seeking divorce.
How this problem arose is explained in a flashback which the hero narrates to God. Then God offers him a second chance. How does our hero, who knows what will happen if her marries the same girl, do this time. This is the gist of this sometimes hilarious, sometimes emotional, full time lively and thoroughly enjoyable film.
As for acting goes, Krishna leaves him mark as a playful character who is pushed to stress in a relationship. It is one of his best performances. Roshani Prakash and Sangeetha Sringeri give good performances. Nagabhushan adds the comedy punch.
The cinematography and art work in the film are worth mentioning. The BGM is perfect while the editing is crisp. The dialogues are witty and add an edge to the narrative. Except for a couple of scenes, the film moves forward in a quick narration.
The film looks like a tribute to Puneeth Rajkumar and it leaves a lump in your throat watching him on screen. This is a film you should not miss. After watching, you will be tempted to watch it again.
Kannada Cinema's Latest Wallpapers
Kannada Cinema's Latest Videos
Kannada Movie/Cinema News - LUCKYMAN MOST ENTERTAINING FILM OF YEAR - Rating 4/5 **** - Chitratara.com
Copyright 2009 chitratara.com Reproduction is forbidden unless authorized. All rights reserved.