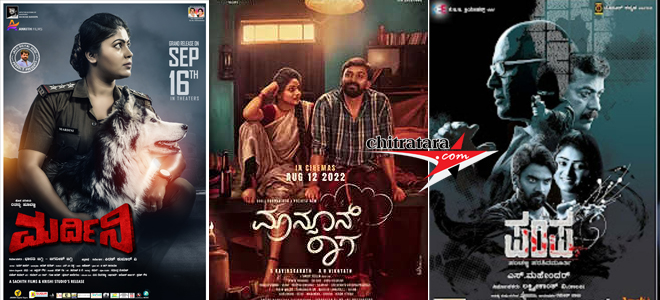 Five Kannada films will be vying for box office success this week. The four films are Monsoon Raaga, Pampa, Mardini Kapala and Riyaa. Among these films, Monsoon Raaga has a star presence in the form of Dhananjaya, Rachita Ram and Suhasini Maniratnam.
Monsoon Raaga is produced by AR Vikhyath and directed by S Ravindranath. The film showcases the various facets of romances from a young boy's childhood crush to a middle-aged bachelor seeking love at his workplace. Due to the star presence and a well-made trailer the film is eagerly awaited by fans. The release of the film was postponed last month and it is finally releasing this week.
Pampa marks the return of veteran director S Mahendar. It also has music by the maestro Hamsalekha. The film is a murder mystery revolving around a college professor named Pampa, which is played by Keerthi Bhanu. Others in the cast include Krishnaa Bhat, Sangeetha Sringeri, Raghava Nayak and Aravind Rao.
Mardini has a female lead played by Rithanya Huvanna. It also stars Akshay Gowda Manohar N, Inchara Joshi and Anoop Shoonya. Directed by Kiran Kumar V, it is an action thriller.
Kapala is a horror thriller about two brothers one of whom goes missing. Abhimanyu Prajwal, Aryan Chaudhary, Pratiksha Gowda, Sushma Gowda and BM Giriraj are in the cast. The film is directed by Vinay Yadunandan.
Riyaa is a horror film about five aspiring musicians who get locked up in a haunted house. The film has a host of newcomers including the technicians from Telugu.