KAPALA Nail-baiting experience - Rating 3/5 ***
Posted date: 18 Sun, Sep 2022 09:29:54 AM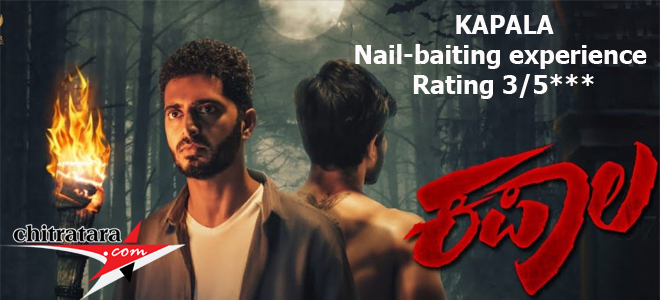 Movie:Kapala
Director: Vinay Yadhunandan
Cast: Abhimanyu Prajwal, Prateeksha Gowda,Yamuna Srinidhi and others.
Producer: Sowmya K Shetty
Kapala is one of the movies released during this year based on superstition and black magic. Director Vinay Yadhunandan has succeeded in extracting the required performance from all the actors and actresses in this movie.
vie begins with S News TV crew shooting a program. Prashanth, one of the reporter of S News goes for an assignment related to black magic. Due to a goof up if cab driver, the pot in which soul of a ghost is kept happens to reach Prashanth`s house and his brother Sanju becomes ghost`s victim. Prashanth approaches Guruji who advised him to go to Agumbe to find out more details about the ghost. The climax is what happens to Prashanth.
Prashanth had acted well. His performance as a reporter who is hard pressed with working overtime is good.
Prateeksha Gowda has also acted well and Yamuna Srinidhi is convincing as a scorscist. Cinematographer has done a neat job.
It is worth watching for those who love to watch horror movies.
Kannada Cinema's Latest Wallpapers
Kannada Cinema's Latest Videos
Kannada Movie/Cinema News - KAPALA Nail-baiting experience - Rating 3/5 *** - Chitratara.com
Copyright 2009 chitratara.com Reproduction is forbidden unless authorized. All rights reserved.