An Eye-Opener Film That Documents Mathas
Posted date: 19 Sat, Nov 2022 07:58:05 AM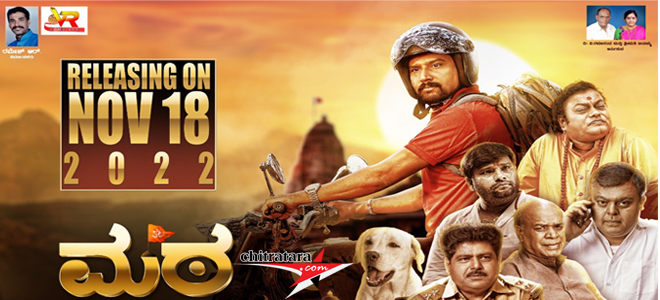 Director: Ravindra Venshi
Cast: Santhosh Davangere, Sanjana Burli, Ashrith Mallengad, Sharath Lohitashwa, Sadhu Kokila, Ramesh Bhat
There could not have been a more appropriate time for the release of a film that is not just a movie but a docu-drama about how various Mathas (Hindu religious monasteries) functions, their challenges, how some of them have turned their purpose upside down and how politicians, businessmen and scrupulous elements are taking advantage of them. It also shows how many of them have managed to stick to their core purpose of religious and humanitarian work. Why this film is also a documentary is because it is based on a non-fiction work.
There was a film named Matha earlier which the maverick Guruprasad directed. It was a satire and exposed how a single Matha functioned. It was seeped in comedy while trying to show the real face behind the façade. The original film has become a cult classic and one of the best films of Jaggesh's career. This film, though has a similar theme, is quite different. This film is a travel story which chronicles the journey of a single man for nearly two years. He goes and visits thousands of Mathas in the journey. He is on a spiritual quest as well as a personal quest. In small flashbacks, his life story is revealed.
The journey takes you around Karnataka. This must be the film with the highest number of locations in Kannada. At least a hundred tourist, religious and historical places are covered in the story. Even though many of them are just for a glimpse, it is worthwhile. There are also dozens of small narrative dialogues which tell the importance of these places. In this way it is a documentary of hundreds of such places. You can watch the film just to watch this list.
The cast of the previous Matha including director Guruprasad appear in a special song. The songs in this film are quite good. The lead actor is not a professional and it sometimes shows up. But director Ravindra has managed to construct quite a good narrative given the fact that it is a non-fiction turned fictional film. It may not set the same standards of the original Matha but as a stand-alone film is quite a revelation.
Kannada Cinema's Latest Wallpapers
Kannada Cinema's Latest Videos
Kannada Movie/Cinema News - An Eye-Opener Film That Documents Mathas - Chitratara.com
Copyright 2009 chitratara.com Reproduction is forbidden unless authorized. All rights reserved.