Nisarga to convey message on environment
Posted date: 10 Tue, Jan 2023 08:07:39 AM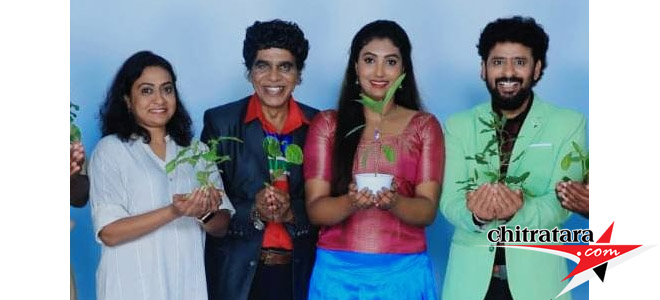 Kannada movie Nisarga, which highlights the importance of protecting the environment and ensuring clean surroundings, is scheduled for release shortly.
The post production work of this movie was completed and it got a UA certificate from the Regional Censor Board.
Shivakumar B K has produced this movie under Bhumika Cine Creations banner. Shivakumar has also directed this movie apart from being a producer. The movie has editing from Ramesh Jangamarahatti, cinematography by S Balu, and music by Vijay Rai. The movie's story and dialogues are by Mysuru Ramanand and recording was done by Prashu. Arrangements are being made for the release of this movie.
The main star cast of this movie include Mysuru Ramanand, Smile Shivu, Shashidhar Kote, Rekha Das, Shankar Bhat, Meese Anjanappa, Kavitha, Shilpa, Nithya Dixit, Meena Portugal, Manju, Parisara Manju, Narayana Gowda Goverdhan Devilal and others.
Arrangements are in progress to make a Kannada movie without dialogues under Bhumika Cine Creations.
Smile Shivu, Janardhan, Mysuru Ramanand, Kavitha, Anu, Shashidhar Kote, Sandeep, Wilson Joseph, Aapen J and others are selected for this movie. This movie will be directed by Kasturi Jagannath. The movie`s shooting is planned in Bengaluru, Malaysia and Bangkok. Peter Rajan is assigned to work as associate director and T C Shaje as executive producer for this movie. Anand is the cinematographer while Silvester as art director, Ramesh Jangamarahatti as editor, Fleming J as liaison officer, and Jostan Joseph as production controller.
Kannada Cinema's Latest Wallpapers
Kannada Cinema's Latest Videos
Kannada Movie/Cinema News - Nisarga to convey message on environment - Chitratara.com
Copyright 2009 chitratara.com Reproduction is forbidden unless authorized. All rights reserved.