OVER NIGHT RICHNESS IS NOT LONG LASTING SAYS `5 IDIOTS`
Posted date: 16/July/2010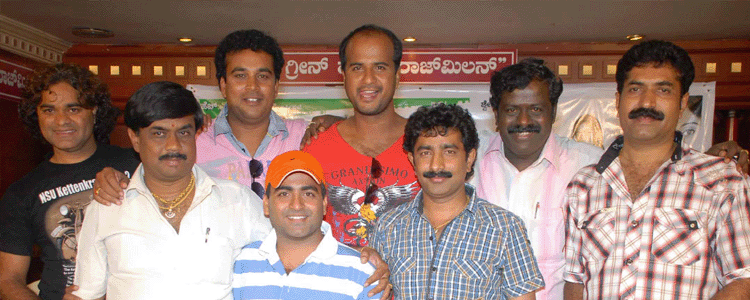 The Kannada film '5 Idiots' is transforming a good message that earning booty overnight from wrong route is not going to last. All the five in the film are depressed and think of kidnapping a rich man's girl. Later they realize their mistake says director cum actor Anand addressing the media after completing the talkie and songs for the film. In two months the film completes the post production and take one month for the publicity. There are only two songs in this film. One is in the beginning and the other one at the climax says former child actor turned hero and director today.
It is in this film 5 Idiots the reformed don appearing in an important role in the climax passes a message. This is the first appearance of Magadi social servant J Krishnappa.
Among Lokesh Murthy, Mohan and Shiva the trio producers it is Lokesh Murthy the Journalist too expressed his cinema admiration. When a familiar face asked six lakhs for six days we thought of asking Karibasavaiah who obliged. After watching Petrol Prasanna in Ambari we have selected him for one of the roles. We are thinking of doing publicity for the film all over Karnataka says Lokesh Murthy.
Venkat is of the opinion the film focus on short cut measures for making money and convincingly says it is wrong approach. Production has become easy for us with the good cooperation. I have good belief that this film would be a success said another producer Mohan.
Despite of losses new producers are coming to produce films. Such producers should be encouraged said Karibasavaiah.
I am wearing wig in this film and it is rare outfit for me. I am like this bald since ten years. The comedy in this film is Adbutha says Petrol Prasanna.
Kannada Cinema's Latest Wallpapers
Kannada Cinema's Latest Videos
Kannada Movie/Cinema News - OVER NIGHT RICHNESS IS NOT LONG LASTING SAYS `5 IDIOTS` - Chitratara.com
Copyright 2009 chitratara.com Reproduction is forbidden unless authorized. All rights reserved.