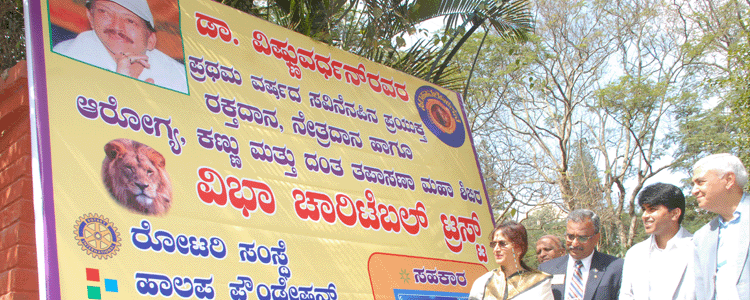 The icon of Kannada cinema Dr Vishnuvardhana first death anniversary tomorrow 30th December is flooded with activities.
At Abhiman Studio next on two acres land meant for Dr Vishnuvardhana Memorial the Karnataka Chief Minister is laying foundations stone for the memorial is the major work.
On the same day at the same place Mega Health and Blood Donation program for the needy people has been organized by Halappa Creations – that brings dreams alive!
The heart check up, dental check up, eye scanning, general health check up, blood donations, eye donations, guidance on Dialysis is taken up by Rotary International, Halappa Foundation, Manipal Hospitals, Unity Helpline Multi specialty hospital, Shekar Nethralaya, Victorial Hospital in the presence of cardiologists, dentists, eye surgeons, nursing staff and technical staff at hygiene environment.
There will be ECG van, cardio van, ambulance at the venue.
On 30th morning the procession from National college grounds from where Dr Vishnuvardhana mortal was brought to two acres land meant for his memorial. 10000 balloons will be flown in the air. Dr Bharathi Vishnuvardhana, Anirudh family members take part in the long procession.
Janasri news channel is coordinating this event.