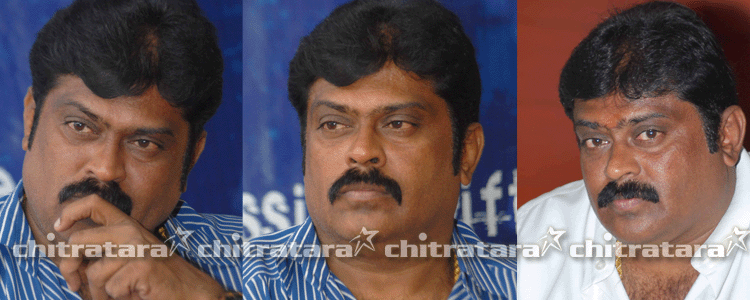 'Gandugali' remained right to his title! That is K Manju producer of over 20 films in Kannada with series of flops and Rs.8 crores losses in his film business so far. He faced the first IT Raid in his life. A man who came to film industry with Rs.15 lakhs is now making news as the IT sleuths barged in to his house. This shows the scae of growth of 'Kobri Manja'. Along with K Manju, television bigwigs Sihikahi Chandru, Ravikiran and a few others were searched by IT officials on charges of evading taxes.

Speaking to a group of journalists on Saturday afternoon at Kanishka Hotel producer K Manju disclosed that he had the nerves when the IT sleuths came to his house and office. The officers were real gentlemen. Around 20 officers in my office and house did a thorough search. I have cooperated to the extreme and there was nothing disgusting for me. It was not at all like the filmy type of raids.

The IT officials found only Rs.22000 cash, jewels, and collateral security papers in my house of one floor in Jayanagar that is built on 'Dr Vishnuvardhana Krupe'. At office in Gandhinagar it was around Rs.1 lakh cash was found.

We do the business on belief. Even today from two of my films with Dr Vishnuvardhana I owe him Rs.50 lakhs. That is all given via adjustments he says. The first call he received was from Dr Bharathi Vishnuvardhana at the IT raids time. He explained on the raids taking place at his home and office. IT officials did not object and only asked to speak in front of them remembers K Manju.
'I am 10th standard fail'. I don't know foul means of avoiding tax because I am not educated. For the series of films lined up someone in the industry pressurized the IT to conduct raid on my home and offices. One thing I told them, IT department officials is that 'Do not ever raid the offices of Kannada producers'.
Do you make full white payment in your business with stars? It is 70 and 30. In some of the cases it is oral adjustments.

How do you show losses? That is the problem with me. I have loss of Rs.8 crores so far.

Are you a perfect tax payer so far?

My IT returns are perfect. I have paid Rs.5 lakhs for 2008-09, Rs.22 lakhs for 2009-10 and for the current financial year the processing is on.

Did you suspect this IT Raids? Yes, I got the clue that IT is behind me one week back.

Do you name one enemy in the industry? I don't want to mention my enemy's names. They have cursed me. I bless them. Let them live happily.

What is the main motive behind IT sleuths coming to your office and house?

Series of films and roping in music director like AR Rehman and doing big projects are the reasons I feel. What is wrong in bringing the big ones of our country to Kannada.

Was there a tensed up situation in the family?

Not at all – my family members left to temple.