STATE AWARD FOR DR VISHNU, ANU PRABHAKAR
Posted date: 19 Wed, Oct 2011 ? 07:50:41 PM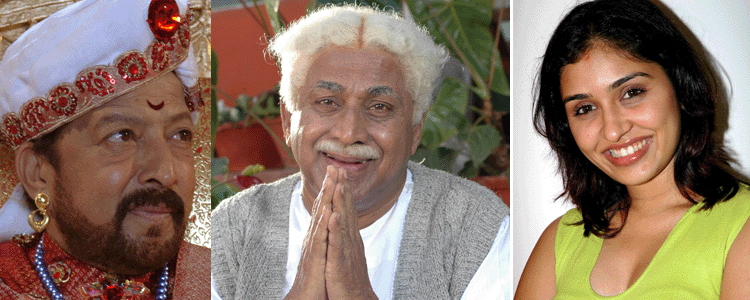 The state best actor award for 2009-2010 goes to Dr Vishnuvardhana posthumously for his chilling triple role in 'Aptha Rakshaka' his last but one film of his career in films.

Dr Bharathi Vishnuvardhana expected minimum of six awards for 'Aptha Rakshaka' but three awards in different categories like – best actor, playback singing and art direction goes to 'Aptha Rakshaka'.

The best music expected for 'Aptha Rakshaka' but it went to V Harikrishna for 'Raj the Showman' the last minute entry to list of Kannada films also bagged the best playback singer award for the song Hey Paru Hele Paaru….and Tippu of Hyderabad gets this award is surprising.

The best actress award goes to Anu Prabhakar the second award for her in the film career. Her performance in 'Pareekshe' that was released only in northern Karnataka was noticed by the award panel.

The Karnataka chief minister DV Sadananda Gowda announced the list of Karnataka state film awards today evening. The state award panel headed Dwarakish has by and large done justice to the awards this year.

The annual Dr Rajakumar award goes to veteran actor RN Sudarshan while prestigious SR Puttanna Kanagal award is bestowed on veteran director CV Shivashanker.

Lifetime Achievement award given in the name of Dr Vishnuvardhana goes to – Producer SD Ankalgi the maker of first cinemascope film that starred Dr Vishnuvardhana in it.

The first, second and third best film awards goes to - RASARISHI KUVEMPU of Rithvik Simha, MANASAARE of Yogaraj Bhat, LOVE GURU of director Prashanth Raj a debutant.

Film with Social Impact – Shabari of Prof Baraguru Ramachandrappa

Children film – Kinnara Bal of PH Vishwanath and Gurukula Sunil Puranik

Best Supporting actor given in the name of Dr KS Aswhath Ninasam Ashwath for Banni

Supp Actress – Chandrakala for Banni

Dubbing artist – Siddaraj Kalyankar and Deepu

Best Story – Nagathihalli Chandrasekhar Olave Jeevna Lekkachara

Best Screenplay - Guruprasad, Eddelu Manjunatha

Best Dialogues – Godachi Maharudra for Banni

Best Camera – Sundarnath Suvarana, Kallara Santhe

Best Music – V Harikrishna – Raj The Showman

Audiographer – Kumar for Just Math Mathalli

Best Editor – Srinivas P Babu for Raj the Showman

Best Child Male – Chiranjeevi Ekameva

Best child female - Madhusri forKinnara Bale

Best Art – Venu Aptha Rakshaka

Lyrics – Nagendra Prasad….Eradkshara…song of Sathya

Tippu – for Hey Paru….of Raj The Showman

Best Female playback singer - Lakshmi Nataraj – Om Kara……Aptha Rakshaka

Best regional cinema Kajar – Konkani best regional

Special award to goes to Sumana Kitthur for 'Kallara Santhe' direction



Veteran Dwarakish was replaced by Dr Bharathi Vishnuvardhana in the announcement made first because of obvious reason. Dr Vishnuvardhana two films Aptha Rakshaka and School Master were in the fray for awards.

The other members in the award committee were MS Rajasekhar, S Mahender, theatre personality Kasargod Chinna, actor Lohitashva, literary personality Mohammad Kuyyi, Journalist Raghunath Chaha, and member from information department, information director will be also in the panel. A few of the award members abstained from the committee meetings.

The list of films that were in fray is as follows:

1.Aaptarakshaka 2. Auto 3. Anishchita 4. Antaratma 5. Banni 6. Bhagyada Balegara 7. Eddelu Manjunatha 8. Ekameva 9. Eradaneya maduve 10. Gaganasakhi 11. Gurukula 12. Kaajar 13. Holi 14. Hushaar 15. Jugari 16. just Maath Maathalli 17. Kallara Santhe 18. Kanasemba Kudureyaneri 19. Karavali Hudugi 20. Kencha 21. Kinnara Bale 22. Kukkoo 23. Love Guru 24. Maleyali Jotheyali 25. Manasaare 26. Muniya 27. Nirdoshi 28. Omme Nodidaaga 29. Pareekshe 30. Perole 31. Police Quarters 32. Prapaata 33. Premism 34. Rasarishi Kuvempu 35. Runaanubandha 36. Sathya 37. School Master 38. Shabari 39. Shishira 40. Shree Harikathe 41. Sugreeva 42. Tantra 43. Traahi 44. Varshadhare 45. Yaaradu 46. Yukti

The films included after the due date are Raj the Showman (Puneeth Rajakumar film in Prem direction), Kaaranji, Jaala, Dildar, Male Bille and Olave Jeevana Lekkachara.
Kannada Cinema's Latest Wallpapers
Kannada Cinema's Latest Videos
Kannada Movie/Cinema News - STATE AWARD FOR DR VISHNU, ANU PRABHAKAR - Chitratara.com
Copyright 2009 chitratara.com Reproduction is forbidden unless authorized. All rights reserved.