DEEPAVU NINNADHE?DEEPA SANNIDHI REAL DEEPAVALI THIS YEAR
Posted date: 27 Thu, Oct 2011 ? 11:07:48 AM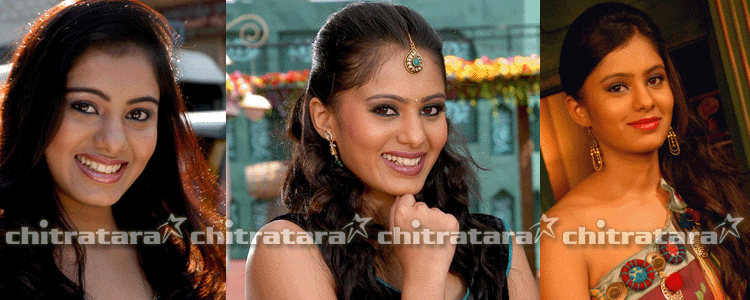 Who is after Radhika Pandit as far as getting good roles, performing it and gaining the good ground? It is Ragini Dwivedi or Deepa Sannidhi.

On the occasion of festival of lights 'Deepavali' Deepa is having success filled event because two of her films 'Sarathi and Paramathma' in four and three weeks respectively made a bumper business.

The 'Chickmagalura Chikka Mallige…. Deepa Sannidhi is bold and beautiful gets this credit for two big films with big stars Darshan and Puneeth Rajakumar. Dinakar Toogudeepa and Yogaraj Bhat have given a sort of training that is very precious for the beginner like Deepa Sannidhi.

Good height, well behaved in all places so far Deepa Sannidhi like Radhika Pandit get good roles to perform. She got good reviews for performance in 'Sarathi and Paramathma'. Acceptance by the audience is something a god sent gift for an artist.

With line of offers Deepa Sannidhi is now with Yash as her counterpart in the film. Deepa celebrated Deepavali by buying clothes and presents for her family members.

By the by this sprightly actress with promising future ahead is learning Hubli accent of Kannada for her new film.

After PUC Deepa Sannidhi was in the Sannidhi of Jewelry designing course and she made a big leap in 'Sarathi' that took nearly two years time to come on silver screen.

Deepa born to a coffee estate father Shashidhar and mother Nanda studied in Bengaluru. Deepa is not reeling with success on her side. My mentality from the beginning is to do any assignment with interest and involvement.

At this young age Deepa Sannidhi has decided to give good results through her roles in films. If that is not possible on that day I would quit she says with confidence.
Kannada Cinema's Latest Wallpapers
Kannada Cinema's Latest Videos
Kannada Movie/Cinema News - DEEPAVU NINNADHE?DEEPA SANNIDHI REAL DEEPAVALI THIS YEAR - Chitratara.com
Copyright 2009 chitratara.com Reproduction is forbidden unless authorized. All rights reserved.