?GEETHA MADHURI? BHARANA ABHARANA!
Posted date: 07 Tue, Feb 2012 ? 12:43:37 PM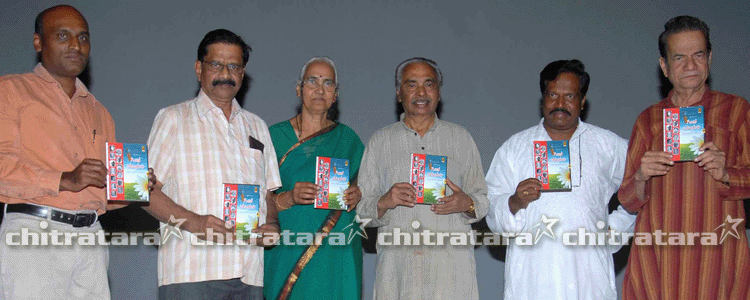 Acclaimed director TS Nagabharana has produced and directed 'Geetha Madhuri' a visual treat of light music songs that has been evolved by HS Venkateshamurthy and BR Lakshman Rao.

The VCD of this was released on Monday evening in the presence of BT Lalitha Nayak, BR Lakshman Rao, Lakshminarayana Bhatta, Shimoga Subbanna at KH Kala Soudha.

It is an effort to get the noted poets compositions by top ranking poets that was kept in the dark in New Delhi. It is an effort from 1996 to get hold of such visuals shot by BC Gowrishanker. After tracing the treasure we have worked for nine months to get it to a shape.

All the scorings are not done by C Ashwath alone. Mysore Ananthaswamy, Jayasri Aravind, Kalinga Rao and Padmacharan have done music. The poems of Dr KV Puttappa, Da Ra Bendre, Pu Thi Narasimhachar, KS Narasimhaswamy, Gopalakrishna Adiga, Dr GSS, Dr Channaveera Kanavi, KS Nissar Ahmed, NS Lakshminarayana Bhatta, Dr Chandrasekhara Kambara are utilized in the 60 songs.

Today the poems of greats are used as fillers in channels. This Geetha Madhurya is also tribute to those who have left us from Shruthalaya and Total Kannada. The opportunity of experience from the poem translated into visuals is lost today. It should not happen like that feels TSN.

TSN hopes this 'Geetha Madhuri reaches every house of Karnataka.
Kannada Cinema's Latest Wallpapers
Kannada Cinema's Latest Videos
Kannada Movie/Cinema News - ?GEETHA MADHURI? BHARANA ABHARANA! - Chitratara.com
Copyright 2009 chitratara.com Reproduction is forbidden unless authorized. All rights reserved.