`GOVINDAYANAMAHA` IT IS LADDU TIME!
Posted date: 11 Wed, Apr 2012 ? 09:47:27 AM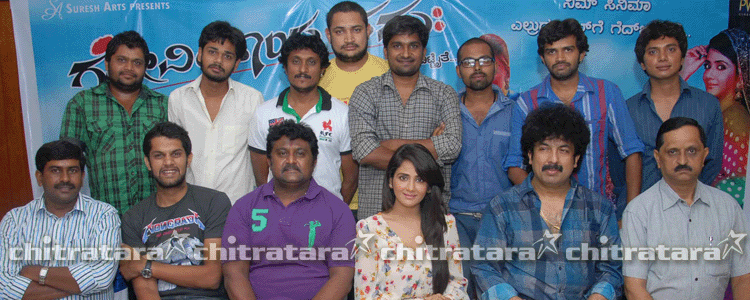 One who believed in 'Govinda' Lord Venkataramana it did not big the fingers of a few producers. The earlier one is 'Super' – for which the line, stone and Venkataramana photographs were used for producer name. Now 'Govinda' name is used for the film 'Govindayanamaha' and 'Laddu' has come in the form of success.

It was a mixture of 'Laddu and Khara Bundhi' in the speech of famous comedy hero Komal Kumar. At the beginning he was emotional and second time he was in cool and spoke in 'Laddu' style addressed the media at Solitaire Hotel.

Komal Kumar Kamaal has worked out in various ways in the film. In the songs and dialogues it has been kicking point. Reaching from Raichur to the press meet Komal once again said his godfather is media. In Kal Manja it was good support, Maryadhe Ramanna was wrong release still it got good collection in the first week. The spot improvisation also came up in the speech of Komal Kumar.

The rocking music director Gurukiran the state award winner for Mylari, the recent announcement said the increase in theatres for Govindayanamaha is a good sign. I know Komal from his earlier days in cinema. The artists selected here are apt. the right making and producers are also reason for the success pointed Gurukiran.

The growth in the family audience in theatres is happy moment for producer KA Suresh. He is not interested in sequel of this film and going fresh with new team for his next film. Every chance of hitting hat trick he has. The first film of Suresh 'Eradane Madhuve' was a success.

Pawan Wodeyar feels happy because he has found success. Leaving a plumb job and doing a film given me satisfaction because of success. He had seen the crowd chilling out for various things in his debut film. He is also taking up a love subject film as his next. He does not see any chances of a sequel to 'Govindayanamaha'.
Kannada Cinema's Latest Wallpapers
Kannada Cinema's Latest Videos
Kannada Movie/Cinema News - `GOVINDAYANAMAHA` IT IS LADDU TIME! - Chitratara.com
Copyright 2009 chitratara.com Reproduction is forbidden unless authorized. All rights reserved.