DIRECTORY IS EQUAL TO CINEMA MAKING ? MG LINGARAJU
Posted date: 22 Sun, Apr 2012 ? 08:43:41 AM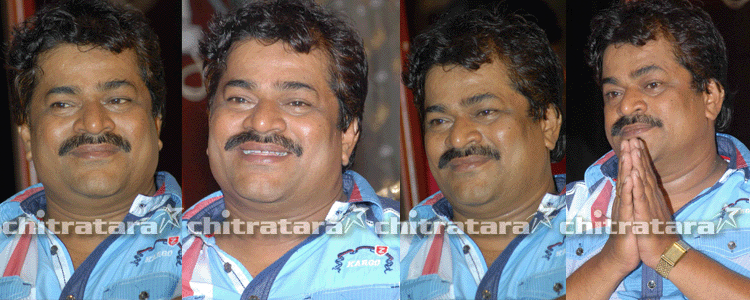 While MG Lingaraju son Chakravarthy stunned everyone from his high pitch song Swgatham Krishna….it is Lingaraju who brought some laughter at the release of Cinema and TV directory.

I have learnt the habit of giving something to society from my father. He was an Yakshagana and Nataka exponent. Growing up in financial constraints I was helped very much by CP Yogishwar and I transferred my difficulty to Lokesh Reddy of Gowri and Ganesha chit funds.

While making a series of Directory one fine day my son Chakravarthy told 'Amma' will be talking about loan and in the night time she will be making sound from her teeth in the sleep. I realized the loan I had taken from his relatives. I returned it and 'Hallu Kadiyodhu' from my wife stopped.

In the case of Triveni yesteryears actress there was lot of fun. Triveni given the younger days photo for the directory and despite of telling the present photo is required she insisted old photo. One of the producers from Tamil Cinema booked Triveni looking at the photo. That producer was very strong and he insisted only Triveni heroine for his film. When the current photo was given he changed his decision. That is the strength of this directory said Lingaraju. Another incident of Srinivas a singer and PB Srinivos was also interestingly narrated by Lingaraju.

I have stopped doing PRO job after 'Sainika' and for my growth late DV Sudheendra is responsible. I came to this industry as 'Barigai Basava' and I would continue to do this service stated Lingaraju.
Kannada Cinema's Latest Wallpapers
Kannada Cinema's Latest Videos
Kannada Movie/Cinema News - DIRECTORY IS EQUAL TO CINEMA MAKING ? MG LINGARAJU - Chitratara.com
Copyright 2009 chitratara.com Reproduction is forbidden unless authorized. All rights reserved.