'BHAGIRATHI' - SPECIAL SHOW FOR DIGNITARIES
Posted date: 06 Fri, Jul 2012 ? 10:53:12 AM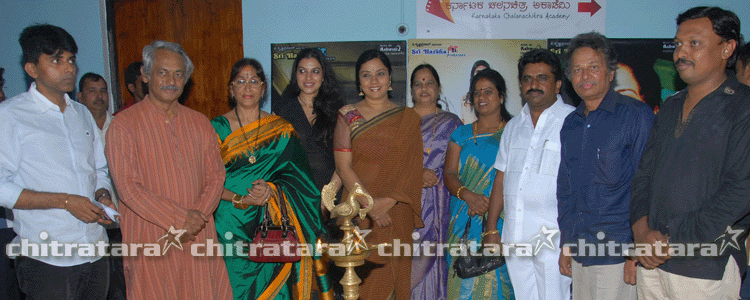 Halappa Foundation – Muralidhar Halappa in consultation with producer of 'Bhagirathi' BK Srinivas organized Prof Baraguru Ramachandrappa directed film special screening at Badami House on Wednesday afternoon.

Jnanapith award winner Dr Chandrasekhara Kambara, Kannada Sahitya Parishat President Pundalika Halambi, literary personality Smt Kamala Hampana, Smt BT Lalitha Naik, Dr Girish Kasaravalli, Dr Bharathi Vishnuvardhana, Manu Chakravarthy, Ravindranath Tagore, TN Seetharam, HG Somasekhar Rao, Thara Anuradha, Bhavana, cameraman Harish Sandekoppa and others took part in the special show of 'Bhagirathi'.

The team of 'Bhagirathi' present at Badami House was greeted with bouquet by Muralidhar Halappa.
GALLERY
Kannada Cinema's Latest Wallpapers
Kannada Cinema's Latest Videos
Kannada Movie/Cinema News - 'BHAGIRATHI' - SPECIAL SHOW FOR DIGNITARIES - Chitratara.com
Copyright 2009 chitratara.com Reproduction is forbidden unless authorized. All rights reserved.