ARJUN GOWDA TRAILER DASHING
Posted date: 13 Tue, Apr 2021 01:30:41 PM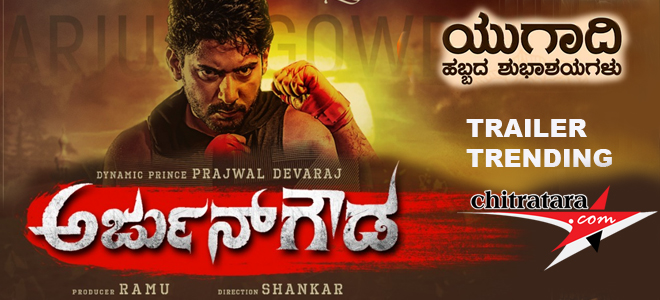 For the dynamic star Devaraj son Prajwal Devaraj 'Arjun Gowda' here is a dashing trailer, the second one that has punching dialogues, action and lilting tune etc
Elli Bhaya Iruththo Alli Savu Iruththe, Nan Ramana hage Sahane, Krishnana Hage Upadesha Madolla…Naan Class, Mass, Powerful Gowda 'Arjun Gowda' – Youth is power of India says this second trailer. The first one was released in August first week of 2019.
Director Lucky Shanker has taken up 39th film of Ramu Enterprises 'Arjun Gowda'. Prajwal starring film with Priyanka (of Ganapa fame) is almost ready.
We have shot so far for 75 days and 45 artists are part of this film. The film is about the head of a TV channel played by Sparsha Rekha and her son Prajwal. Prajwal has three shades in this film. It was my dream to work with Ramu Enterprises film director Lucky Shanker.
Kittappa is editor, Jai Anand handled camera, Dharma Vish scored music for this film.
Prajwal Devaraj three shades and happens to be the 3rd film with Ramu Enterprises. He is soft, rugged and jolly going in three shades of his film. There is kickboxing too in this film and finds it interesting for Prajwal.
Kannada Cinema's Latest Wallpapers
Kannada Cinema's Latest Videos
Kannada Movie/Cinema News - ARJUN GOWDA TRAILER DASHING - Chitratara.com
Copyright 2009 chitratara.com Reproduction is forbidden unless authorized. All rights reserved.