BHUMI POOJA FOR UMAPATHY FILM CITY
Posted date: 14 Sat, Aug 2021 03:11:22 PM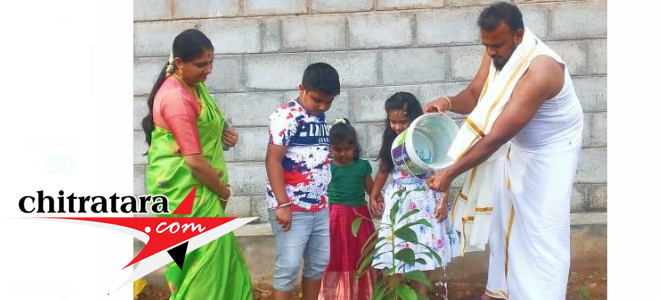 A number of film personalities in the last four decades talked about the formation of film city. The Karnataka government is still dilly dallying on the formation of film city in Mysore and the announcement made in 1985 by the then chief minister Ramakrishna Hegde 350 acres land is a neglected topic. Now 100 plus acres of land in Mysuru is doing rounds.
However, here is gutsy producer Umapathy Srinivasa Gowda who made 'Robert' starring challenging star Darshan has commenced work for Film City on 25 acres of land at a cost of Rs.175 crores. The Bhoomi Puja was held on auspicious Nagarapanchami Day. This is very close to Sri Ravishanker Ashram Art of Living on Kanakapura Road and it is a 'Mini Film City' states the proud producer Umapathy Srinivas Gowda.
Umapathy Srinivasa Gowda is also maker of Hebbuli, Ondalla Eradalla Kannada films currently taken up Madagaja starring Srimurali.
The film city of Umapathy Srinivas Gowda will be ready by 2022 – it will be roads, railway station, hospital, bungalow in the first phase.
Kannada Cinema's Latest Wallpapers
Kannada Cinema's Latest Videos
Kannada Movie/Cinema News - BHUMI POOJA FOR UMAPATHY FILM CITY - Chitratara.com
Copyright 2009 chitratara.com Reproduction is forbidden unless authorized. All rights reserved.