BOMBAAT BHOJANA NEW BOOK COMES
Posted date: 08 Thu, Apr 2021 10:21:29 AM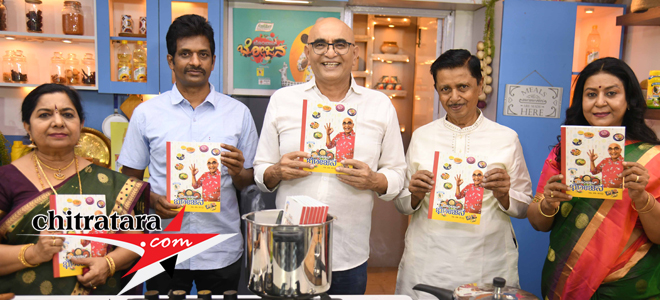 After the mega hit of 'Bombaat Bhojana' of 650 episodes and 5 volumes of book of 1.40 lakhs copies sold Sihikahi Chandru and Sihikahi Geetha are not sitting quiet. They created the 'Chandru Brand' of food products. Now it is another celebration time.
The knowledgeable couple have completed 150 episodes in the entertainment channel and released the new book of 'Bombaat Bhojana' recipes with sponsor Ashwathnarayana Gupta of Krishna Ghee. Gupta present at the media briefing said it is 'Nalabheema Paaka'. He appreciated the effort of Sihikahi Chandru and released the book from the hot cooker.
Last few years ago, Sihikahi couple raised the Ugadi festival occasion. This time on 12th of April 2021 this 36 years long super Jodi coming up with Bombaat Bhojana 150th episode – the highlight of this 150th episode is 'Food and Music', international acclaimed Kannadiga Pravin Godkindi on flute and Sihikahi Chandru cooking is part of it. Chandru prepares the best of Pravin Godkindi in this episode. Yet Sihikahi Chandru is not daring enough to cook for his wife – he was in lighter note addressing the media on Wednesday night.
The glossy and colorful Bombaat Bhojana book has 96 different varieties of cuisines. Smt Gauri Subramanya, Sihikahi Geetha and script writer for Chandru – MSN Murthy addressed the media.
Kannada Cinema's Latest Wallpapers
Kannada Cinema's Latest Videos
Kannada Movie/Cinema News - BOMBAAT BHOJANA NEW BOOK COMES - Chitratara.com
Copyright 2009 chitratara.com Reproduction is forbidden unless authorized. All rights reserved.