HARSHIKA-BHUVAN LENDS SUPPORT
Posted date: 27 Thu, May 2021 08:15:35 PM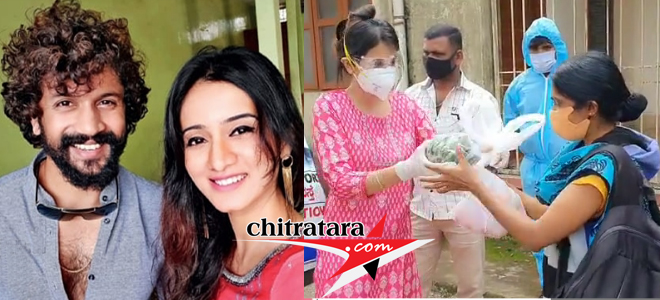 At this crucial Corona Pandemic situation a number of artists and technicians of Kannada cinema have come forward with helping hands.
Among them, Harshika Poonachcha and Bhuvan Ponnanna have helped hundreds of families in Bengaluru surroundings. The two have now reached their hometown for further support.
Harshika and Bhuvan set up`Bhuvanam Covid help 24x7` trust and give help to Corona affected people in this lockdown situation. The families of the affected were given a 15 days food kit and Madikeri Mans Compound was the place this social work took off.
Besides food kit, mask and other necessities were provided. Madikeri commissioner Ramdas was also present at the distribution.
Kannada Cinema's Latest Wallpapers
Kannada Cinema's Latest Videos
Kannada Movie/Cinema News - HARSHIKA-BHUVAN LENDS SUPPORT - Chitratara.com
Copyright 2009 chitratara.com Reproduction is forbidden unless authorized. All rights reserved.