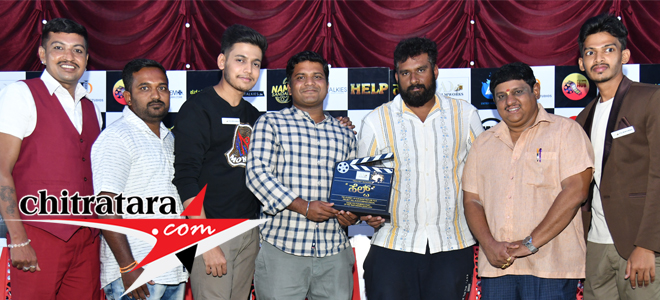 To become a full fledged director on the big screen; the stepping-stone is a short film for so many talents. The good response a short film gets is a major boost of confidence too for technicians.
Now Aditya with theater backdrop, short films to his credit comes up with short film 'HELP' with a social message and appears as a coolie Raju in his short film.
English professor Zarin Chandan directs this for his Shishya. Each one has helping nature in life whether he is rich or poor. Based on this general thought this short film is made. Zarin directed short films like 'Parivala' in the past. He intends to take up big screen in the coming days.
At Tumakuru railway station, Bengaluru surroundings shoot is held for 'Help' and on April 27 this is available in OTT platform. The teaser of this short film released by famous director Simple Suni.
Aditya, producer of this short film says this short film is not having any shortfalls compared to any big screen film quality. This is a different attempt in Kannada, believes producer Aditya and appears as a coolie in the short film. Sri Veerendra Heggade, Dharmadhikari of Sri Kshetra Dharmasthala released poster of this short film
Simple Suni remembered his days of learning in school with Zarin. The first one strikes the mind at present hearing this title 'Help' is our Appu – Puneeth Rajakumar he said and wished good luck to the team of 'Help'.
Abhijit, B Suresha, Veena Sunder, Swathi, Nisha and others are in the cast of 'Help'. Harshavardhan Raj composed music for 'Help'.