KICHCHA SUDEEP GREAT GESTURE
Posted date: 21 Fri, May 2021 01:08:20 PM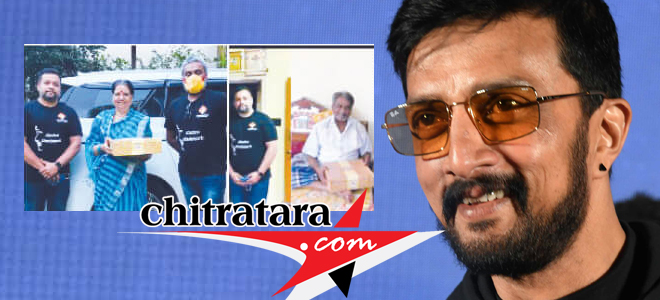 In the most crucial and difficult times the senior actor`s life is in doldrums without earning. Understanding this Pandemic situation the Abhinaya Chakravarathy Kichcha Sudeep made a polite inquiry about the health of his senior supporting actors in a marvelous style.
Writing a beautiful letter on health conditions and needs of support Kichcha Sudeep just not passed this letter but he sent a pack of dry fruits to get some energy to his colleagues.
All the supporting actors who received such a wonderful gesture called `Sudeep as our MAGA` – just inquiry is also not done on a senior colleague`s health. Now a nice thought of Kichcha Sudeep is appreciable.
At the first slot, around 100 plus senior actors health inquiry is made in the letter. In addition, a dry fruit kit was presented along with the letter. Kichcha Sudeep Charitable formed four groups and went in different directions to reach the senior supporting actors residence.
Kichcha Sudeep Charitable Trust is doing splendid service in different fronts to the society.
Kannada Cinema's Latest Wallpapers
Kannada Cinema's Latest Videos
Kannada Movie/Cinema News - KICHCHA SUDEEP GREAT GESTURE - Chitratara.com
Copyright 2009 chitratara.com Reproduction is forbidden unless authorized. All rights reserved.