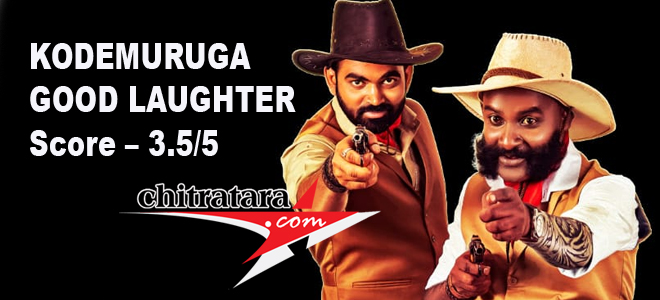 Duration – 120 minutes, Category – social drama, Score – 3.5/5
Title – Kodemuruga, Producers – K Ravikumar and Ashok Shirali, Direction – Subramanya Prasad, Music – MS Thyagaraj, Cinematography – Rudramuni Belegere, Cast - Munikrishna, Subramanya Prasad, Pallavi Gowda, Dattanna, Aravind Rao, Kuri Pratap, Kaminidharan, Swathi, Rockline Venkatesh, Kaddipudi Chandru, Govinde Gowda, Mohan Tumakuru, Mohan Juneja and others.
This film holds a mirror to the people living in the cinema industry, especially the technical department!
It is the dream of every director to reach the pinnacles in the profession and get applause. The technician is obsessed with the sound of a clap more than any other noise in his lifetime. He works so hard to cross the steps of thorns.
`Kodemuruga` is very good in many parts for various emotions coming up on the silver screen. One thing that `Kodemuruga` clearly establishes is that it is not easy to survive in the cinema industry if you have script, ability to direct and perform.
Here is a youth who is not a hero from any angle. Now the demand of this youth sibling is that to make the production it is only his sibling take the lead role. There is ulterior motive in the elder brother in doing so. The man with a moustache and black in complexion is Munikrishna. He is also a dupe in his own way and a rare kind of personality. The director handling this film caught quixotically.
There are many such films in the past in the Indian cinema. A cinema inside a cinema is well known. The effort here in `Kodemuruga` is entertainment. There are many places you laugh holding your stomach. Director of this film Subramanya Prasad also one of the protagonists in the film worked on the detailing very well.
MS Thyagaraj music is another plus point while Yogaraj Bhat and Subramanya Prasad lyric add value to the songs.
The director of this film is in a director role in this film and he shows that money is very important in this arch light.
Kodemuruga`s title role played by Munikrishna is the focus for his looks and moustaches. He is already famous as `Bala` in small screen `Nannarasi Radhe`and he is the main trump card of the film.
A small screen beauty Pallavi Gowda looks very beautiful on big screen. Aravind Rao strikes, 100 plus films character artist Rockline Sudhakar presence makes you to ask God why you gave him such a departure in real life. Kuri Pratap is another rib tickler. There is a smart actor Dattanna too.
A team of youngsters making `Kodemuruga` not banking on the wrong theories of cinema is a great factor indeed. You can watch this `Kodemuruga` once.