KODEMURUGA TRAILER SUPERB RELEASING ON 9th APRRIL
Posted date: 05 Mon, Apr 2021 10:48:07 AM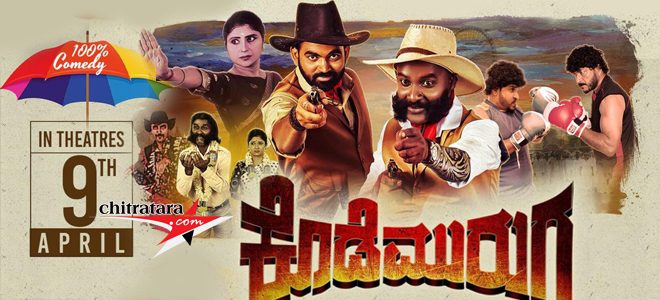 For the summer ahead, there is a laughing stock with some realities to the audience. That is evident from Anand Audio 3 minutes and 42 second trailer of 'Kodemuruga'. There is enough of 'Navarasas' it is evident from this trailer .
Subramanya Prasad of small screen in the last 12 years has lent a well cut trailer and he is now coming before the audience on April 9th all over Karnataka.
Cajoling main character role played by Munikrishna tonsured head and well grown up moustache as his asset is the focus.
Munikrishna with the same moustache is famous in the role of 'Balanna' in the popular TV serial 'Nannarasi Raadhe'. He wanted to become a villain in his profession but got a main character in this 'Kodemuruga'.
Pallavi Gowda has different shades and variation is interesting for her. Aravind Rao is not a cop but in comedy after 'Halo Mama'. Rockline Sudhakar who passed away last year has some punching dialogues. Kuri Pratap is there to tickle funny bones.
MS Thyagaraj composed music for four songs; in KRK productions, K Ravi Kumar as main producer and Ashok Shirali is co producer of the film.
Kannada Cinema's Latest Wallpapers
Kannada Cinema's Latest Videos
Kannada Movie/Cinema News - KODEMURUGA TRAILER SUPERB RELEASING ON 9th APRRIL - Chitratara.com
Copyright 2009 chitratara.com Reproduction is forbidden unless authorized. All rights reserved.