KRG STUDIO RATHNAN PRAPANCHA TRAILER COMES
Posted date: 21 Sat, Aug 2021 03:53:23 PM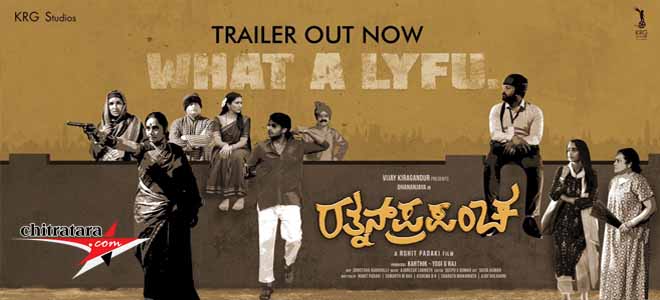 On the auspicious Varamahalakshmi day the much expected KRG Studio Karthik Gowda and Yogi G Raj production 'Rathnan Prapancha' trailer has made a good noise and interestingly cut trailer of 2 minutes and 33 seconds in fact bring in all the characters of the film Dolly Dhananjay, Reba John, Shruthi, Umasri, Anu Prabhakar, Ravishanker Gowda, Pramod and a few others.
This is about the journey of a middle class youth Rathnakara. Striking from 'Dayavittu Gamanisi' Kannada film Rohit Padaki has really made this trailer 'Sure watch'. He has introduced very sensitive issues in this film and appeals to the middle class audience very strongly.
This film is presented on silver screen by Vijay Kiraganduru, Yaana Kannada film fame Vainidhi (daughter of Vijayalakshmi Singh and Jai Jagadish). Achyuth Kumar, Rajesh Nataranga and others are also in the cast.
Ajaneesh Lokanath has done the music and Shreesha Kuduvalli is cinematographer.
Kannada Cinema's Latest Wallpapers
Kannada Cinema's Latest Videos
Kannada Movie/Cinema News - KRG STUDIO RATHNAN PRAPANCHA TRAILER COMES - Chitratara.com
Copyright 2009 chitratara.com Reproduction is forbidden unless authorized. All rights reserved.