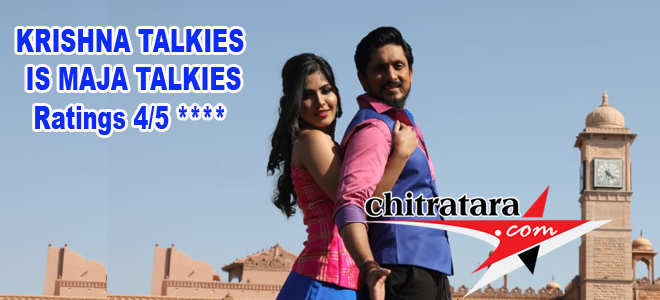 Duration – 120 plus minutes, Category – suspense, horror thriller, Score – 4/5
Title – KRISHNA TALKIES, Producer – Govindaraju, Direction – Vijayanand (Anandapriya), Music – Sridhar Sambhram, Cinematography – Abhishek Kasargod, Cast – Krishna Ajay Rao, Sindhu Lokanath, Apoorva, Shambhavi, Niranth, Pramod Shetty, Mandya Ramesh, Chikkanna, Prakash Tumminadu, Shobharaj, Yash Shetty,
Inside the 'Krishna Talkies' it is 'Maja Talkies' with various emotions (suspense, horror, thrill, comedy, romance, good music etc) for the audience. It is a well-crafted suspense film too. How protagonist Krishna Ajay Rao in 'Krishna Talkies' unravels shady deals as a crime journalist for the first time forms the crux of the film.
Another in the series of 'Krishna' for popular hero Ajay Rao is 'Krishna Talkies' is about Balcony F 13 on 13th of every day is the curious day.
The story for this thriller with suspense derived from an incident in Lucknow theatre in 1995. For this director of 'Olu Muniswamy'Vijayanand who was all these days Ananda Priya (brother of eminent writer, director Dr V Nagendra Prasad) makes the new addition.
When Krishna digs on the missing case of the first candidate on the F13 on 13th of the month the curiosity builds up. This is covered up because of the heavy clout of the 'Krishna Talkies' owner.
Krishna Ajay Rao in a suspense thriller actor 30 films has given fine performance in all the three shades. Coming from the city , his role is a private detective work. He is behind the crime as a journalist to investigate.
Sindhu Lokanath, Apoorva and Shambhavi are trio heroines of this film 'Krishna Talkies'. Sindhu is Parimala, a village belle attached to a mobile. Love, suspense, thrill is interesting she says. Apoorva 'Victory 2' debut film with V Ravichandran and small actor for six years Shambhavi has a de-glam role.
Chikkanna, Pramod Shetty, Mandya Ramesh, Shobharaj, Niranth, Basu Kumar, Yash Shetty and others have given good support.
Abhishek Kasargod cinematography is appreciable and Sridhar Sambram melody in songs is as apt as relief.
This is a worth watching film. Vijayanand alias Anandpriya has shown a high degree of skill as a director.