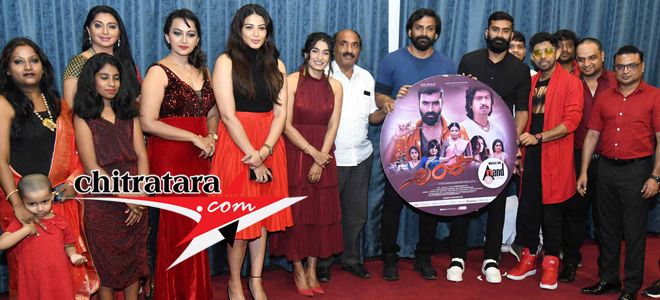 For the tall and lanky actor Yogish another tall and well-built hero Dolly Dhananjay was present to release the audio of the film 'Lanke' at SRV theatre.
Before the audio release procedures the four lovely songs of 'Lanke' Nodu Nodu Yogi Bassu…Nayanake Nayana…Haalada Jawani… and Nanu Don Ge Daanu…were screened in a packed auditorium.
Young and promising Karthik Sharma has given a brilliant composition and Ghouse Peer lyrics are equally bright. The song featuring Kavya Shetty and Yogish is of course hot and well captured in the camera.
The surprise entry to the audio release was tall and talented Gayathri Jayaram. Actress Neela and Swami with Challenging star Darshan Gayathri Jayaram returns to Kannada after a long time. She was very happy for the invitation to a different kind of role and she loved the dedication and application of mind of director Ramprasad. The dance director Dhanu Master got wide appreciation for doing dance for the three songs in the film was also present and Ghouse Peer eminent lyricist thanked for the opportunity and caliber of director Ramprasad is extremely good and by heart this film is made he said. The core romance Ghouse Peer likes has come to his kitty only now.
To the apt banner Great Entertainers, the songs are great no doubt but to hit the silver screen the 100 percent exhibition allowance is required.
A film starring a Yogish actor of 25 films, there are four heroines, all pretty and good performers. Kavya Shetty is in negative shade, Krishi Tapanda is counterpart to Yogish, Gayathri Jayaraman is in a different role that cannot be described and Esthar Naronha in another touching role is counterpart to late Sanchari Vijay in the film.
Top actor today from 'Dolly' role in 'Tagaru' Dhananjay said the theatres should be full with good zoom all over once again from my best friend film 'Lanke' – I am a longtime friend of Yogish and we are working together in 'Head Bush' he stated after Yogish revealed a project with him.
Mars Suresh, distributor of the film explained different surprises connecting to this film and he said directors like Ramprasad are sure to make it good. The theatres should get permission for 100 percent capacity of the audience he felt in his address.